Zamawi
Yes, I'm doing it again. But Zambia and Malawi would do well to join forces. Zambia is empty, but has potential, whereas Malawi is overpopulated, and could do with some more uncultivated wide open space.
After our unbelievable turnaround in the DRC, overnight we found ourselves on practically the other side of the continent. During the planning stages, we optimistically thought we might make it to Zambia, but realised quite early on that this was unlikely. Suddenly there we were.
Whilst Russ was inside dealing with the paperwork at the border crossing, I was having the usual banter with the fixers and money changers around the bikes. I asked one of the guys what Zambia was like and if it was similar to DRC? His response was, "Ah no! Those Zambians are organised!" And so they were.
There was a millisecond of confusion as we entered into Zambia, as we suddenly realised that we now had to ride on the left hand side of the road. There were no signs to that effect, but the on-coming traffic was a bit of a giveaway.
And organised it was! The road suddenly improved, there was signage, and cars would unbelievably wait until the path was clear before attempting to overtake.
Russell's GPS indicated a campsite about 50km from the border and we made straight for it. This campsite was organised. It actually catered for campers, which is something we had not seen since Morocco. We were hosted by a retired Brigadier General of the Zambian army that had been posted all over the world on secondment to the UN. He had some very interesting stories about the various armies he encountered on his placements, and we chatted the evening away.
The next day we made for Lusaka. 78 days. That's how long we had been riding without encountering rain. But we knew it would never last. And so on day 79 the heavens opened and we were pelted by a true African rain storm. Fortunately they are normally short lived, and by the time we reach Lusaka, we were dry – mostly.
We made for a backpackers and relaxed into comfortable surroundings. We were umm-ing and ah-ing on where to go next. With the sudden change in geographical location, we had made no concrete plans for this part of the world. After a little deliberation with the map spread-out, we decided to head for Malawi as we heard the roads were good and it was inevitable we would encounter rains regularly.
We headed east on the very quiet Great Eastern Road to Chipata. The scenery was stunning, rolling green hills, beautiful valleys and big skies. And of course, a few rain showers. We overnighted at another backpackers in Chipata and were informed by the owner that there was a fuel shortage in Malawi. Heeding his warning, we purchased a couple of 5 litre jerry cans and filled up the bikes to the max, including our jerries.
The border crossings were now becoming ridiculously easy and we whizzed through the formalities. We made for Lilongwe, and headed straight Mabuya Camp, a well known establishment with the overland fraternity. On our way there, the kilometre-long queues at each of the filling stations rang true the warning we received back in Zambia. We were a little worried, as we knew we would need more fuel.
And for the first time since Mali, we met other overlanders. There was Pete, the nut-bag cyclist who spent 2 months pedalling his way through the DRC and Lutz the German in a Landy taking the slow road to Cape Town.
We topped up our tanks with our reserves and made enquiries about how we could find more. It was confirmed there was no fuel in the pumps, but we could find it on the black market. We parted with a wad of Kwatcha, and procured another 5 litres each. It wasn't cheap, but we needed it.
The Lake was calling. This was our prize and we headed for a little gem of a spot called Cape Maclear. We decided to splash out and checked into one of their nicer rooms where we promptly stayed for a week. What do you do in the same place for a whole week? Nothing. We used the intermittent rain showers and overcast skies as an excuse to sleep, read, eat, sleep and sleep. We also met a few interesting characters including two young English chaps who have driven down the eastern side of the continent in a Toyota Hilux Surf. They sound like they were having a ball.
With our much needed rest over, we hit the road again and headed for Blantyre. The roads were littered with pedestrians and animals and it made for slow and frustrating travel.
We went to Blantyre with a mission, we need to stock up on general provisions and we urgently need to track down some Malawian Gold. That's right, petrol. We were in luck, Blantyre was flush with fuel and we filled up rather leisurely. We stayed at this very weird and exceptionally popular backpackers called Doogles. It's down a very dodgy back road behind the bus rank, but the strange part is the massive bar full of alcoholic expats drinking away their expat packages. It was a Tuesday night and the party carried on till well into the early hours. We hadn't witnessed such drunken carnage since our leaving do.
And so our Malawian adventure came to an end. We loved the lake and ever-changing scenary and vowed to one day be back, just not in the rain season.
Our first night in Zambia. It was organised:

Stocking up on fuel close to the Malawian border: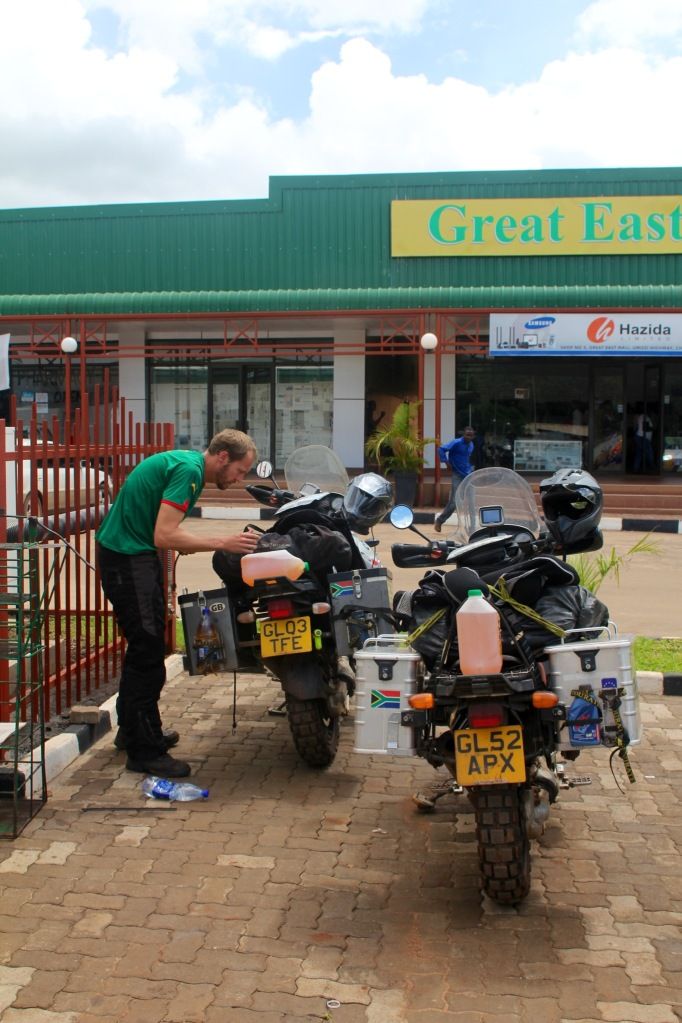 The Malawian skies were in competition with its Zambian neighbour: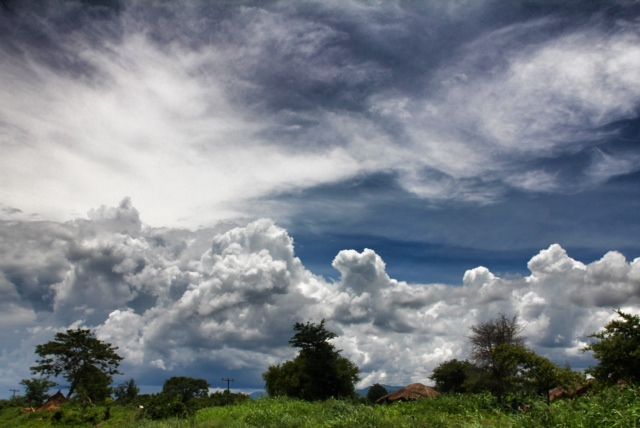 Our chilled out beach at Cape Maclear:

Fat Monkey at Cape Maclear. Our home for a week: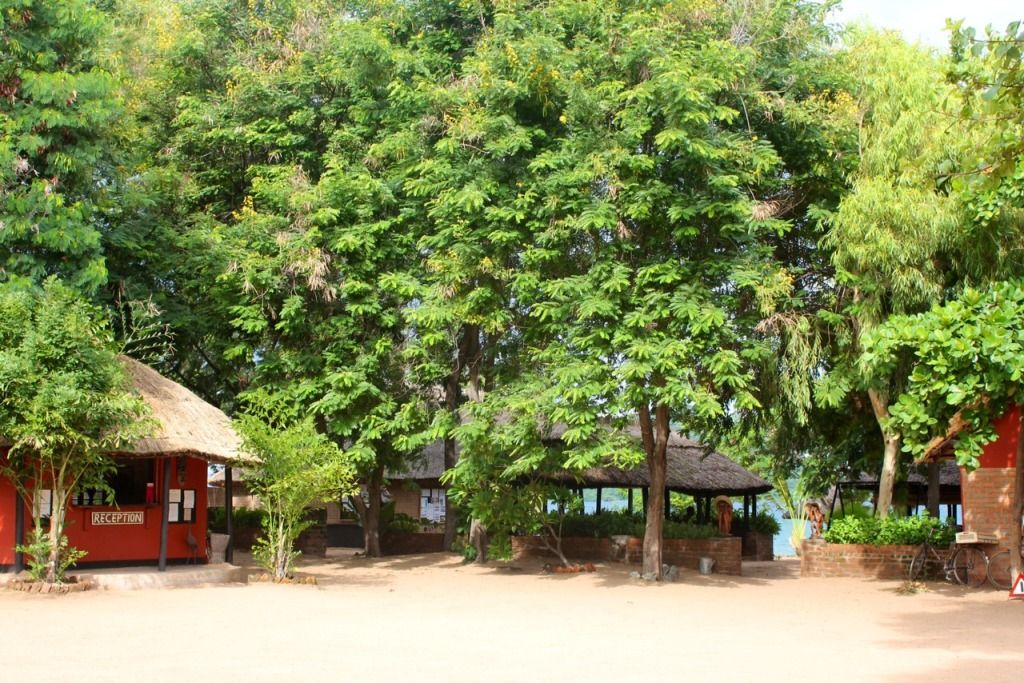 Dramatic skies and choppy waters, i.e. a typical day:

And remember people: