Tobeni
That's what I would call the unified region of Togo, Benin and Nigeria when I become president of the world, but let's just keep this as the title of the blog post for now.
After our extended stay in Accra (and my short visit to SA for Gareth and Carrie's wedding), we did the 188km journey to Lome, Togo. To us this was exhausting, so we decided to take the next day off. We stayed a couple of nights at the Hotel Gallion and explored the city. We perused the massive city market and made a visit to the famous fetish market, where you can buy all manner of dried animals for your white magic and Voodoo rituals. Apparently all the remains are derived from animals that have died from natural causes. Apparently.
The next day we made for Nigeria, however thanks to a thumping hangover after a late night drinking session with some fellow hotel guests, crack of noon became crack of afternoon. We made it through the busy border into Benin and headed for Cotonou. We arrived quite late, crashed in a very cheap guest house and left early the next day. However, apart from the usual West African driving standards, we can't really bad-mouth the place.
And so into Nigeria. Our passports were frisbee'd to about 5 different people, all slightly more senior than the previous. We smelled a request for some cash, however we had our pre-emptive strike ready: "We are so happy to be in Nigeria as tourists, we have heard so many good stories about how friendly everyone is to tourists and we are looking forward to enjoying your lovely country as tourists." This resulted in them being too embarrassed to ask for money. We were in and we parted with nothing. According to even Nigerians, this is a world first.
Nigeria is overpopulated, polluted, congested and loud. The police are notoriously corrupt and always fishing for some "dash". The locals pay up, mainly because their vehicles are so unroadworthy, it's the only way they can still operate. Also, motorcycle riders would rather pay up than wear a helmet, which is apparently compulsory. No one seems to spot the error. When accosted by the local force, we would just smile and say, "No, I'm sorry I don't have any foreign currency for you, how far is it till [insert name of next town]?"
The driving standards are diabolical. There is a theory that Nigerians fancy themselves as time travellers, and that if they go fast enough, they can beat time.
They are also awe-struck by our motorcycles, or "power bikes" as they call them. They look at the speedometer and assume that the last number on the dial indicates its top speed, therefore that is the speed at which we are travelling at.
They were a friendly bunch, it has to be said, but with the high congestion, noise and pollution, it's difficult to sell the place. We originally planned on heading to Abuja to shop for visas, however when we found out we wouldn't be able to obtain the Angolan visa there (change in policy), and we could get the Gabon visa in Yaounde, Cameroon, we made for Calabar in the South East, where we could also pick up the Cameroon visa (which we got in a mere 2 hours). The guide book painted a promising picture of Calabar, so we decided to stay for 3 days. We also used this opportunity to do much needed bike maintenance. Calabar wasn't that great, but in hindsight, it was probably nice by Nigerian standards.
And so we headed to the border. There were two options into Cameroon, the busy one at Ikon and the quieter and closer one at Ekang. We picked Ekang, which on the Michelin Map, is shown as a major road. Now we know why it is quiet. The road started out brilliantly, the best road we had been on in Nigeria. It then disintegrated into a muddy, rutted mess. When we finally got to the border, we were treated like celebrities, mainly because we were the 3rd foreign people to pass through there this year. One was a Canadian woman on a motorcycle (who incidentally got lost for 3 days in the jungle after parking up to look at a nearby waterfall, finally being rescued by some local hunters), and two Portuguese chaps in a 4×4 that passed through in the wet season. "They had much trouble… Much trouble," said the Immigration Officer.
The next 29km into Cameroon was a baptism of fire. The road was an undulating track of muddy, rutted hell in a tunnel of green. We loved it and hated it, and would have definitely high-fived each other afterwards, if we had the energy. Here's a short clip:
So we've learned a new term from an expat we met in Lome, which sums things up nicely: WAWA, or West Africa Wins Again. We use this amazingly often.
Fun with long exposures. This was back in Ghana:

The first semi-official confirmation of the temperatures we've been subjected to: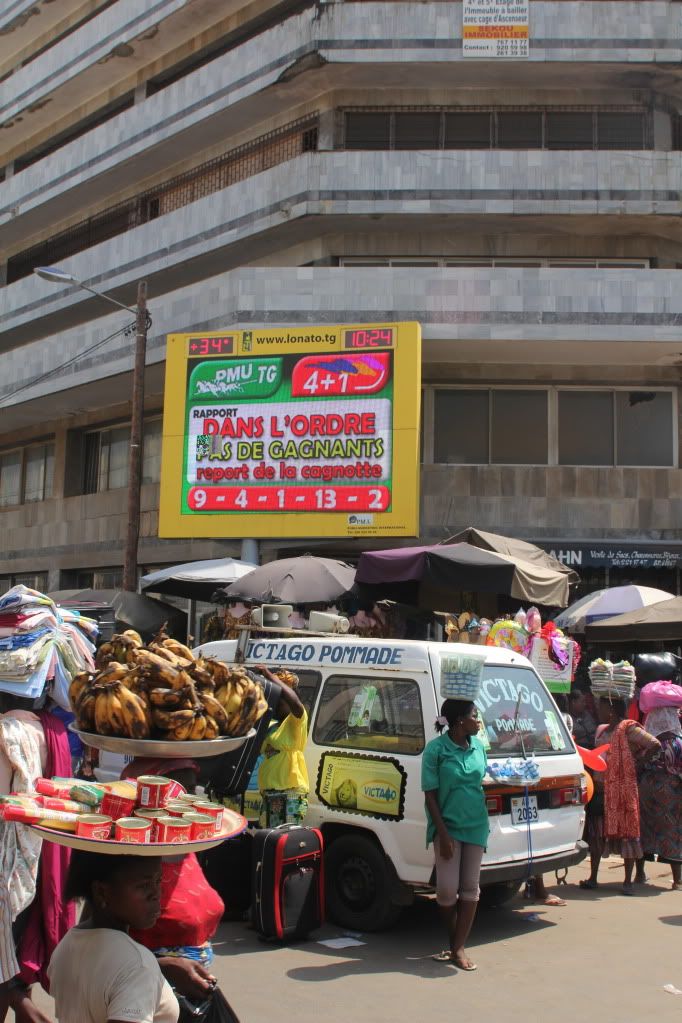 Fetish market in Lome, Togo:

Dried chameleons:

I thought this one looked a bit like Julius Malema: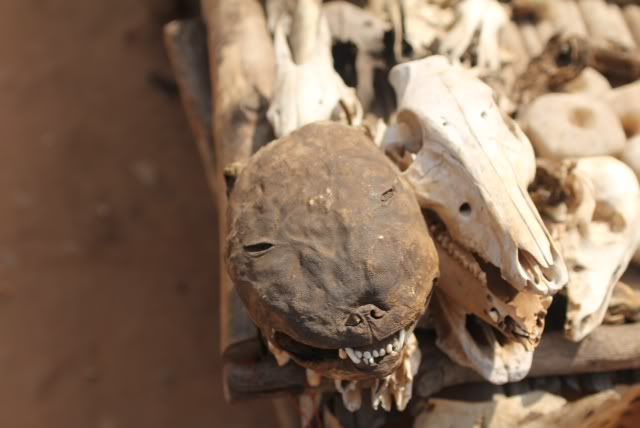 Time for some bike maintenance:

The kids at our Calabar hotel: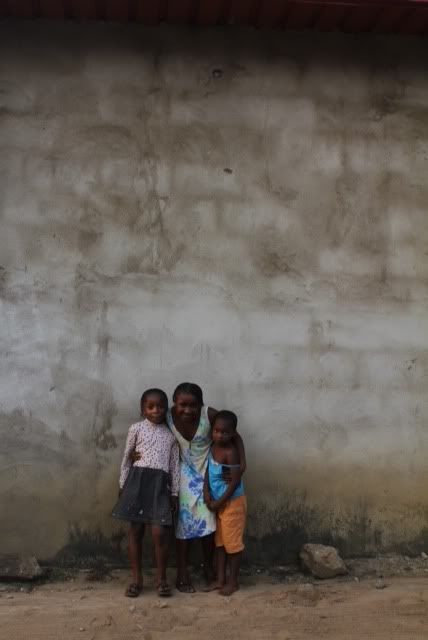 Nigeria – 419 Land.

About the only exiting thing in Calabar was a floating fuelling station:

The official border crossing between Nigeria and Camaroon:

This chap told us about the Canadian woman who got lost in the jungle: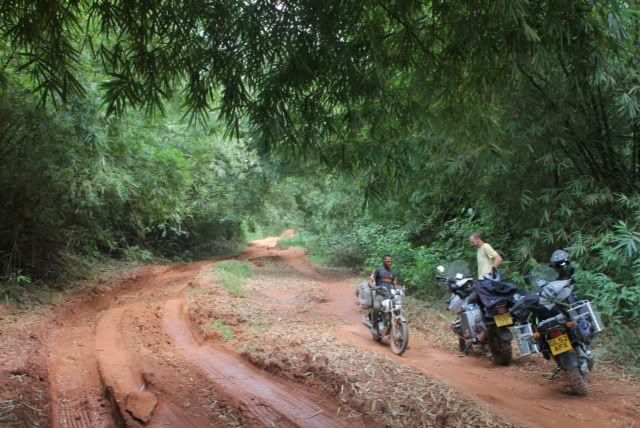 Stuck in a rut, literally. The side stand wasn't down here, mother nature was holding the bike upright.