Southern Peru
Entering Peru could not have been easier, friendly and professional border control. OK, the guy entering my bike details took his job very seriously. Like 30 minutes worth of forms seriously.
First stop is Cusco. Leaving Lake Titicaca is a slow descent through winding valleys. Slowly it gets greener and more lush. Progress is slow due to the fact that I have to keep stopping to take photographs, the scenery is stunning. It is one of those rides that leaves you grinning ear to ear. There has been a lot of that lately.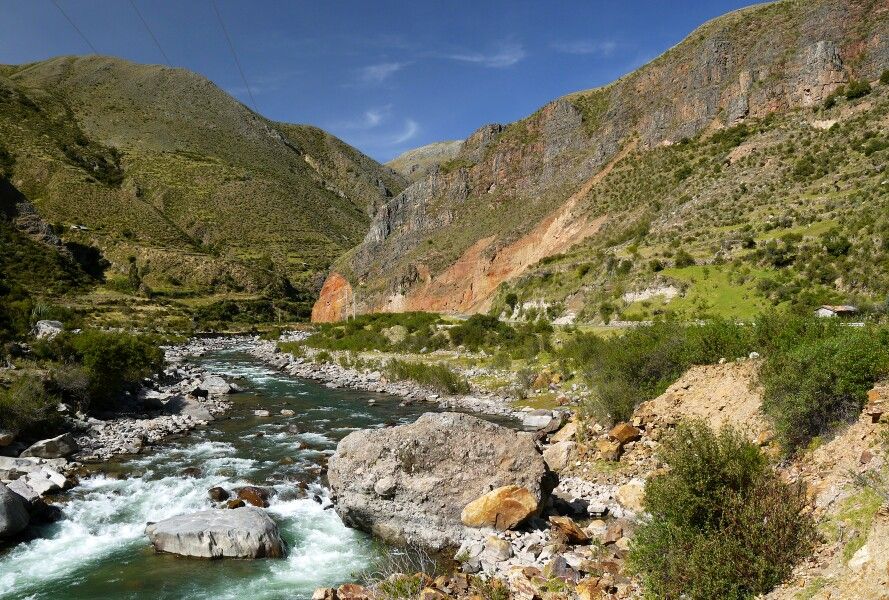 At Cusco, I checked into Hostal Estralita (Tullumayo 445) on recommendation from someone on HUBB. This place was great, very basic, but the old guy running it was fantastic. Every morning we had a little chat, him in Spanish, me in Spanglish, basically one of us pointing at stuff and the other nodded in agreement. They are very biker friendly, he has built a ramp so bikes can get into the courtyard. Why can't everyone do that?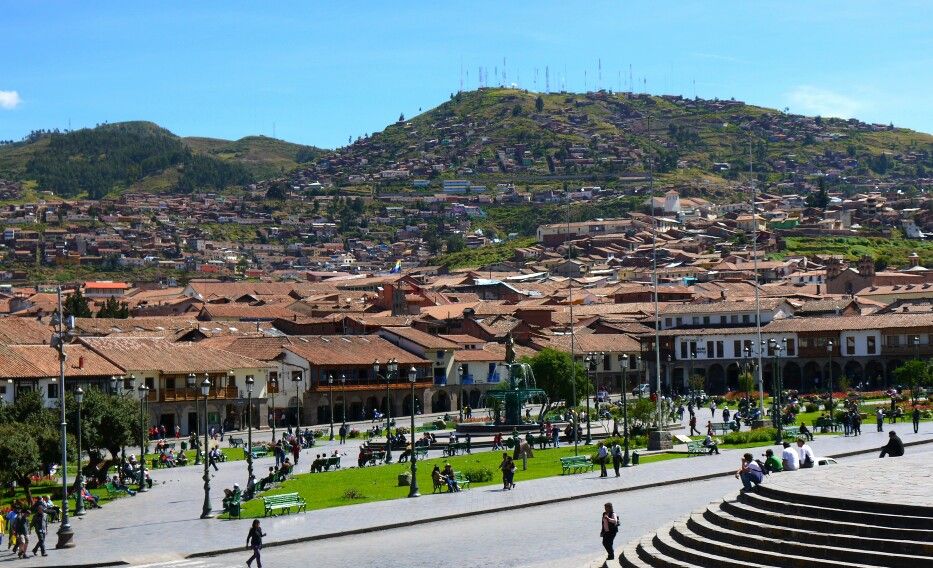 I met up with Ricky the following day, we have been travelling on and off together since Buenos Aires. Ricky has been backpacking through the Americas and our South America route has been fairly similar.
My time in Cusco was spent doing touristy Inca stuff by day and drinking Abbot Ale playing darts and pool with Ricky at the Norton Rats Tavern by night.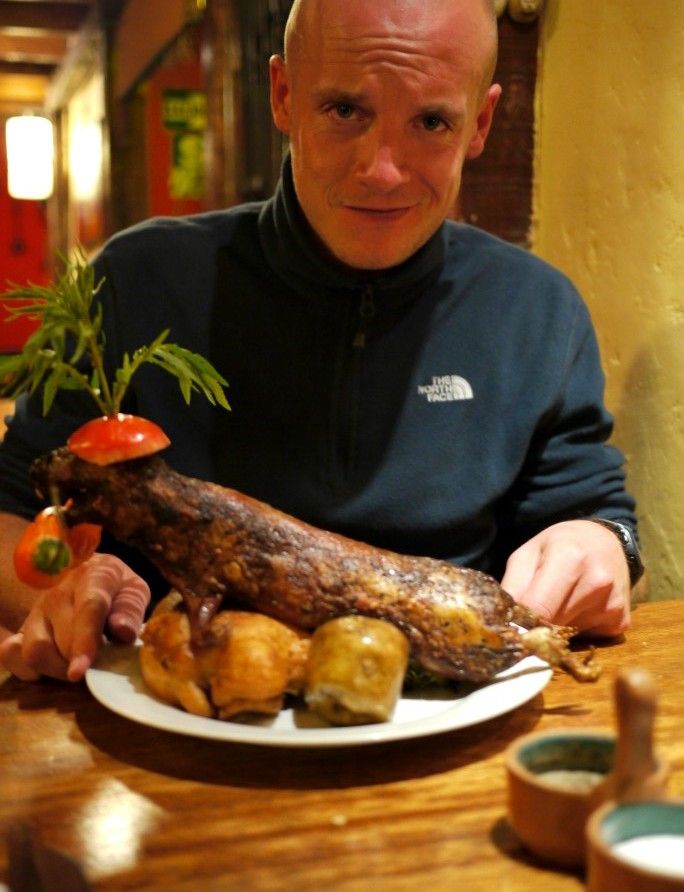 What wine does one serve with Guinea Pig?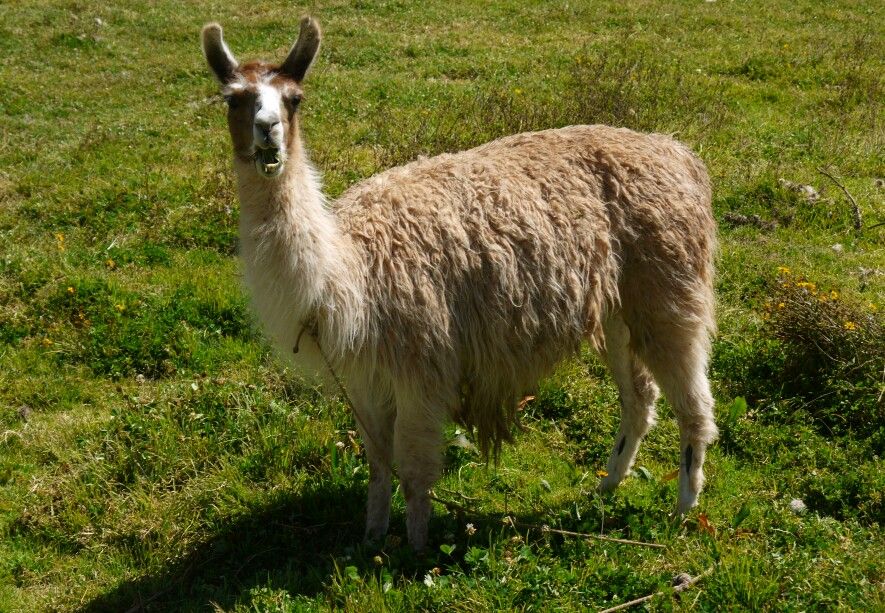 A llama, I'm quite surprised it has taken so long for one to feature on this blog
No visit to Cusco is complete without visiting Machu Picchu. Now there are 2 ways to do Machu Picchu, the easy way or the cheap way. The easy way is with the ridiculously expensive 3 hour train trip. Or the painful 6 hour bus trip and then walking the rest. Lost cities are not meant to easy to get to, so we went for the cheap way. The first 5 hours to St Maria were easy enough. The final hour to St Teresa is a narrow and winding dirt road, bordered by deep precipices. After St Teresa, it's a 2 hour walk to Aquas Calientes at the foot of MP. As I said, lost cities are not meant to be easy to get to. Its during the walk that you appreciate how inaccessible MP is, mountains everywhere and they go straight up. Its easy to understand why it remained undiscovered until only 100 years ago.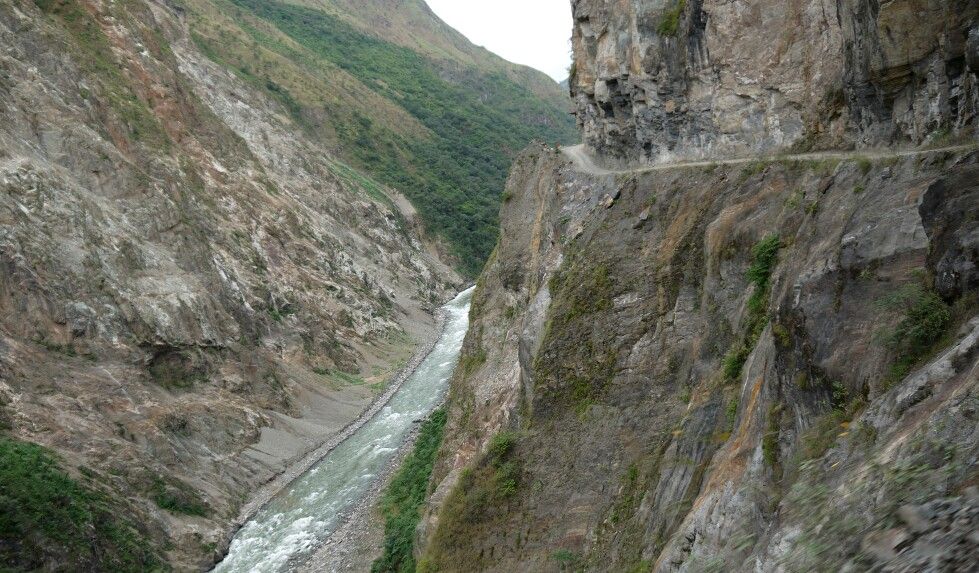 Drop offs on the road to St Teresa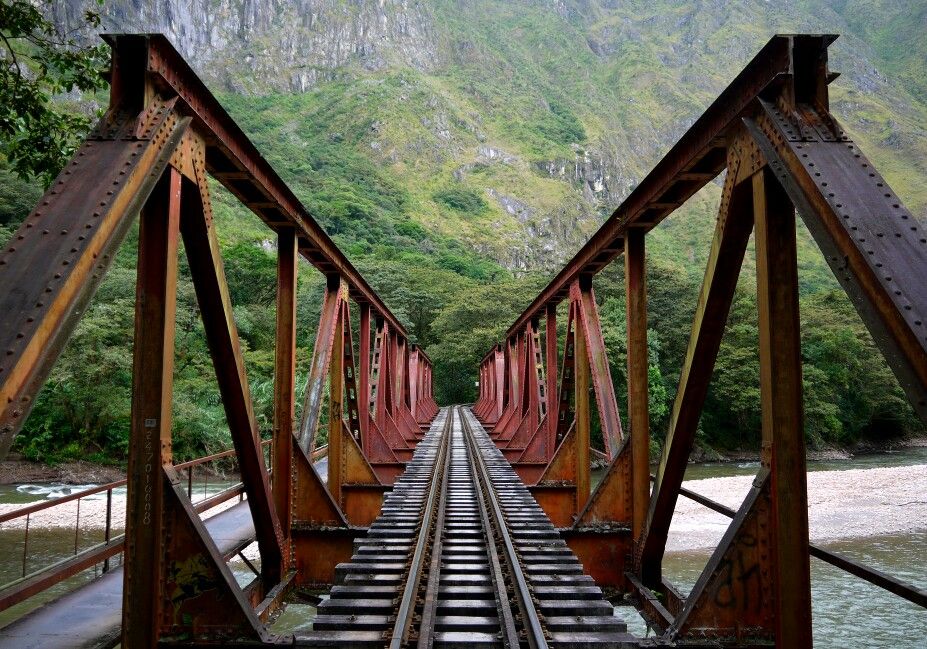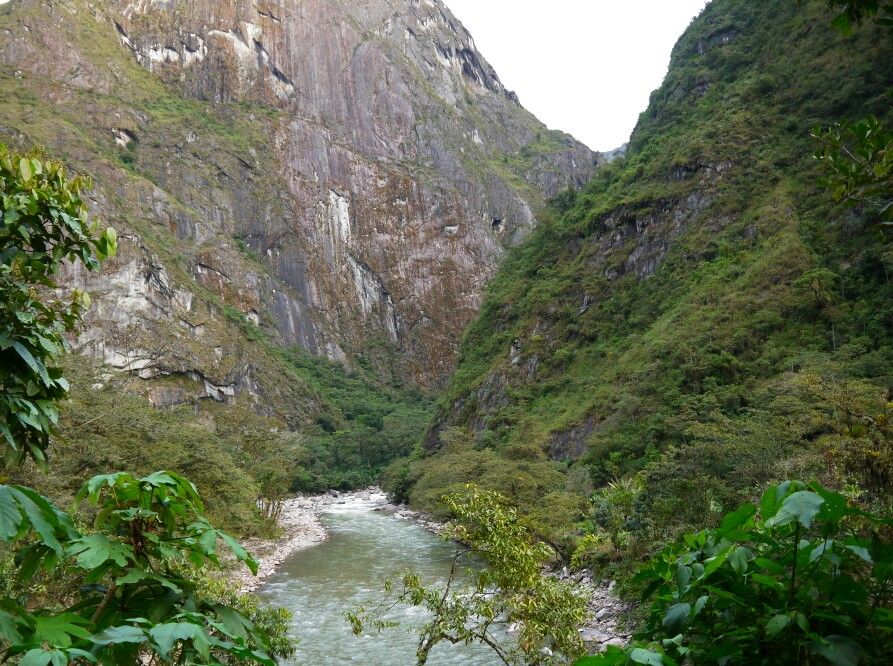 The following day we set of for MP at 4:00 am. Yes, 4am. It's a 2 hour hike up to MP, mostly in dark if you want to beat the crowds. Or an expensive 15 minute bus ride. The walk up feels near vertical. Everyone has seen pictures of MP, so you feel like you have been there already. What you don't realise is just how inaccessible the place feels. It's built on top of a near vertical mountain with sheer drop offs which must be a good 800m. Seriously impenetrable. Growing crops in this environment would not have been easy, these steep angles require some serious terracing. They must have really wanted or needed to live here because it required some serious effort.
Machu Picchu is seriously impressive, definitely one for the bucket list. But make sure you get there early because thousands of people go there every day. And try walk some of it, it's a lost city, the mystery is in it's inaccessibility.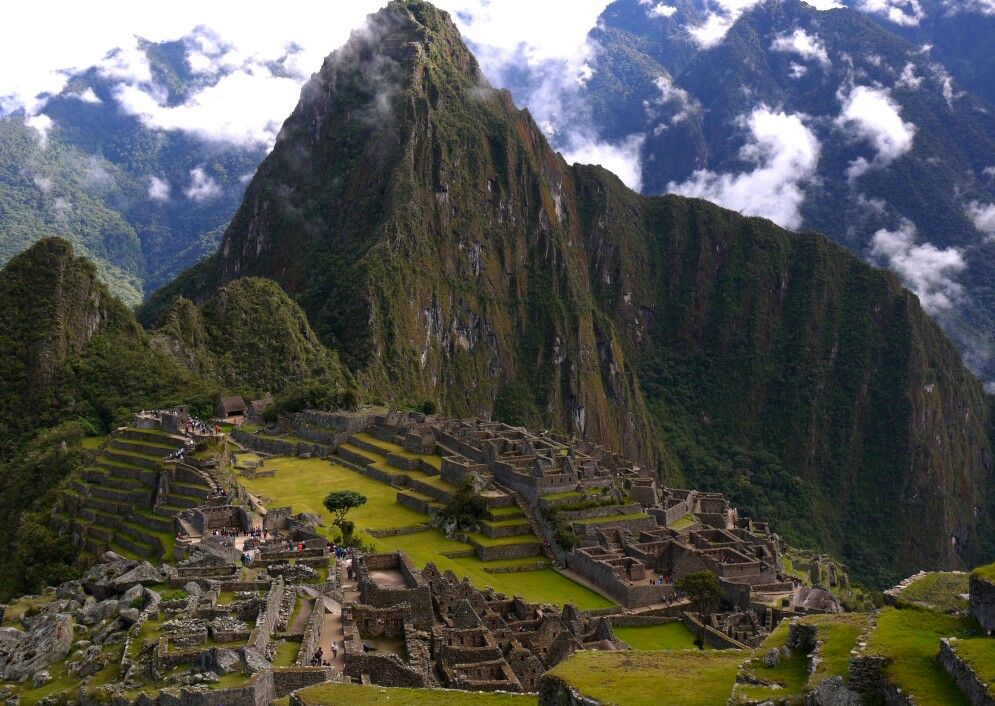 Serious terracing making for difficult farming
The descent to Nazca takes you through a spectacular valley which runs parallel to the Colca Canyon, the one of the deepest canyon in the Americas at 3,191m. Which also means the end is almost at sea-level, a big big relief on the lungs.

Great canyon riding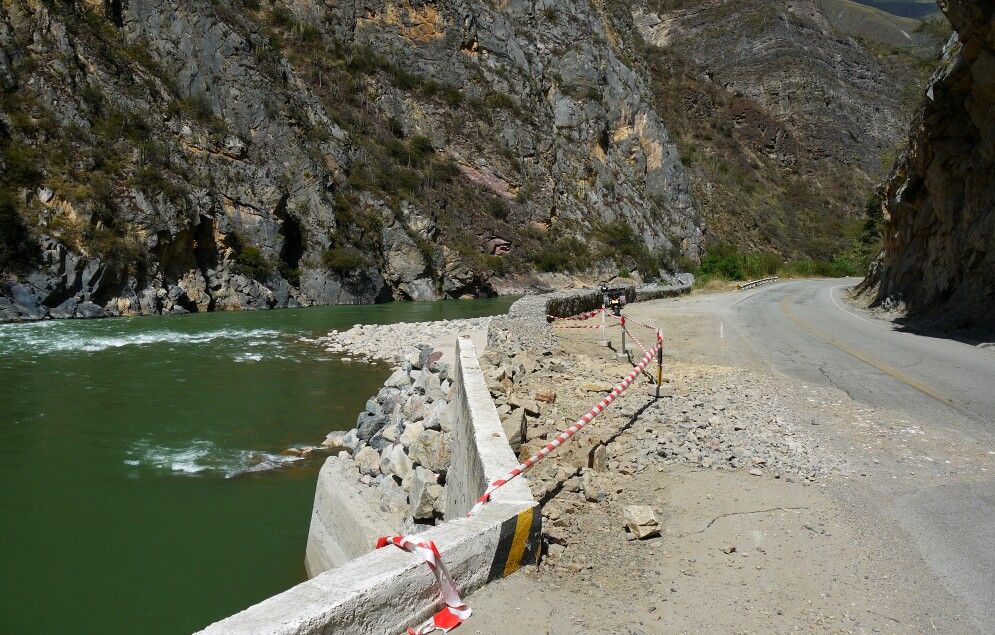 Occasionally the road sort of disappears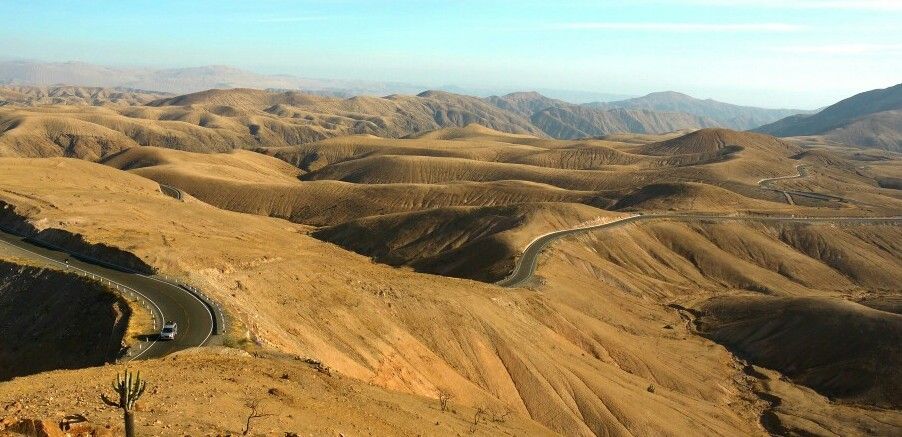 20km before Nazca the landscape changes from typical Andean highlands into spectacular rolling desert
Little is known about the Nasca lines, most is speculation. They were created by the Nasca people between 450 and 600 AD. There are 300 geometric figures and over 800 lines, covering an area of 500 sq km. The largest figures span 270m with some of the lines being several kms long.
There are various theories about the figures, they could represent an astrological calendar, the monkey for example maps to Orion. Or they could be representations of shamanic visions brought on by hallucinogenic trances. No one knows. Many of the lines seem to point to water sources from the river in the valley above the plain.

The monkey, my favourite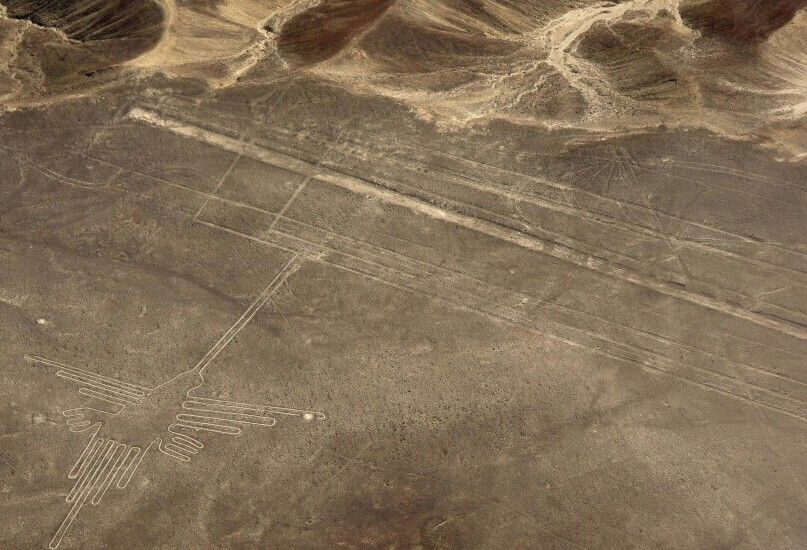 The Hummingbird

Lines, lines everywhere.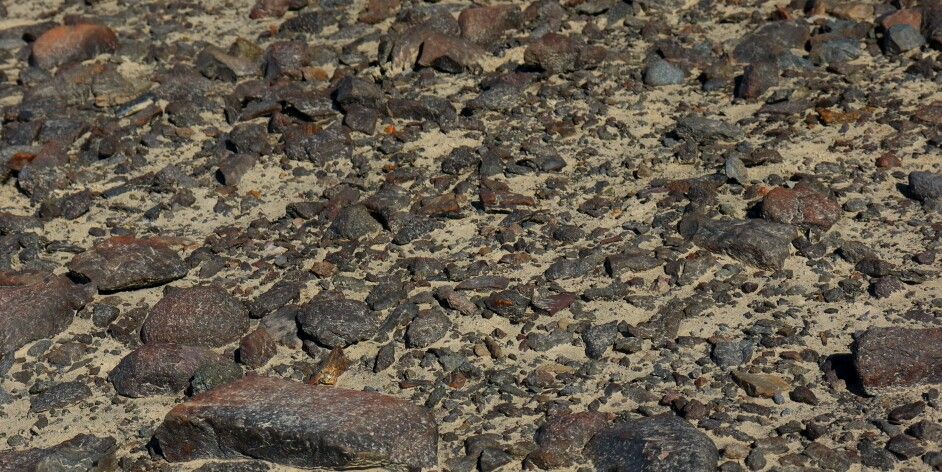 The lines were created by removing the surface sun darkened stones exposing the lighter sand below.

Most of the lines forming the geometric figures are 20-30 cm wide only 10-15 cm deep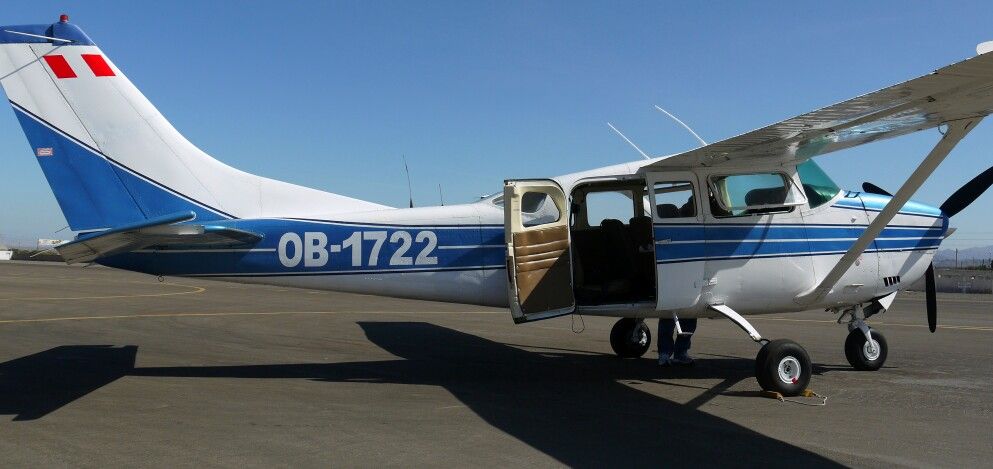 My ride for the day
If you are into history, like I am; Peru is amazing. The hiking to is unparalleled. If I have to rate the countries I have been to on this trip by how many photographs I have taken, then Peru is winning by a long shot.