The Final Push To Cape Town
Having been extremely well looked after by various members of the Jonson clan over the last few weeks, we continued on our final leg of the trip towards Cape Town. By now we are very much on the main South African tourist trail. Roads are good, accommodation excellent and the food even better.
Our first stop was Jefferys bay, the world famous surf destination. We rode down to Island Vibe backpackers, which is described by a local guidebook as "lively". Full of surfers and bikini clad surfer groupies, the later outnumber the former by about 3 to 1. And so we checked in, for 3 days. At Island Vibe they partied hard, all day, every day.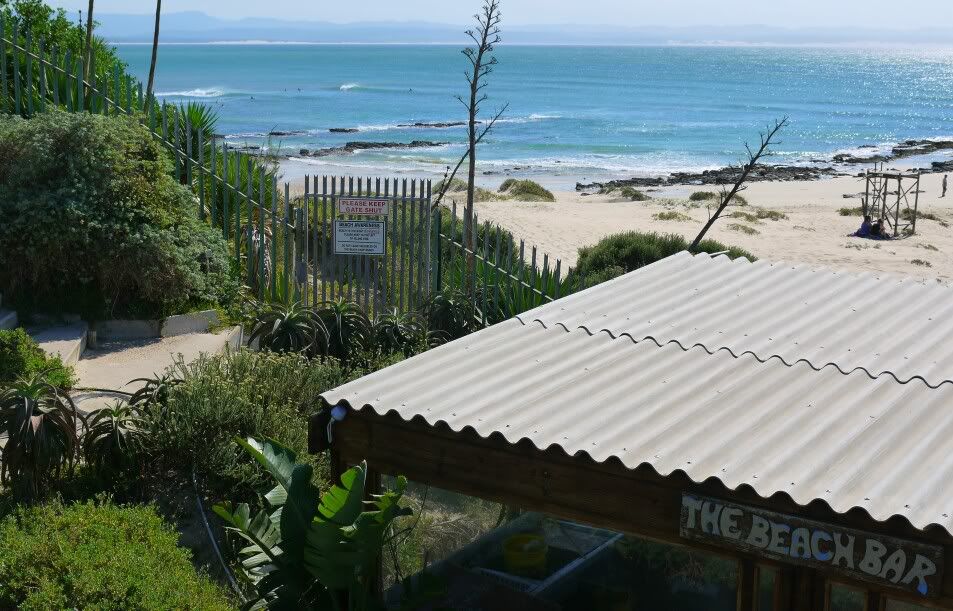 The view from our room at Jefferys Bay
Nursing hangovers from hell we then did what any self-respecting middle-aged bikers would have done, we checked into Surf School. And trust me; there is nothing that says "middle-aged" like repeatedly falling off a foam surf board whilst attempting to ride 2ft waves. The only conciliation was that every other person at surf school was female, blonde and in their early twenties.

Our next stop was the Wilderness Beach House, another top class establishment on the scenic Garden Route. After a world class braai, we stumbled into their bar and noticed the special on Witblits. For those not familiar with this fine drink, Witblits is a local moonshine made by fermenting the Devil's urine. We promptly raided the next day's petrol budget and ordered a few shoots. Apparently the owner accidentally ordered a case of the stuff, hence the special. The special was so successful that she had to order another case.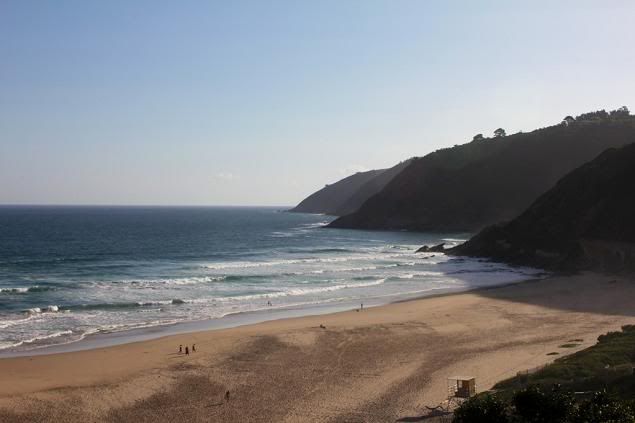 Wilderness and the Garden Route
Our final stop before Cape Town was a visit to my parents at their holiday home in De Kelders, across the bay from the whale watching town of Hermanus. Lauren, Adrian's girlfriend, was also there to meet us; we celebrated that night with a festive reunion braai. The next day we popped down to Gansbaai, a small harbour town now dubbed the "Great White Shark capital of the world". No, we did not go shark diving, we have made it this far without dying so we decided not to tempt fate.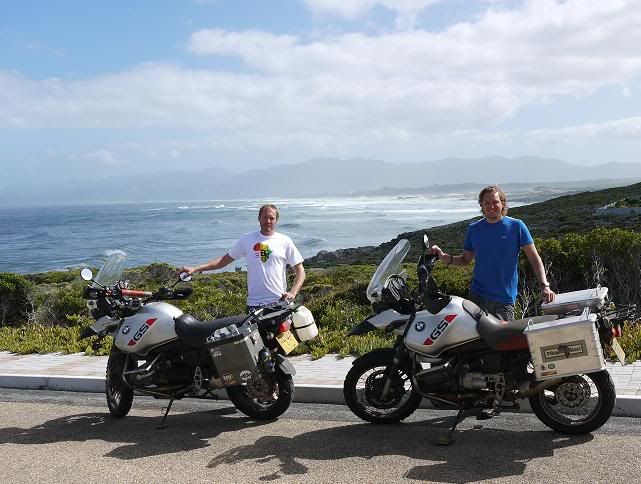 De Kelders, looking out to Hermanus and Walker Bay.

Lauren joined us for the final 150km into Cape Town. Poor Lauren was sick as a dog that day but she powered on through in the true Pikipiki spirit of "just because". We're glad Lauren joined us because she has been the 3rd Pikipiki member from the start.
Coming into Cape Town, we took the scenic R44 coastal route between Hermanus and Gordons Bay. This road is biking heaven, breath taking views and awesome twisties. Finally Cape Town was in sight. Just 20kms to Blouberg strand for a few photos.
Proof we did make it… And that we did not kill each other along the way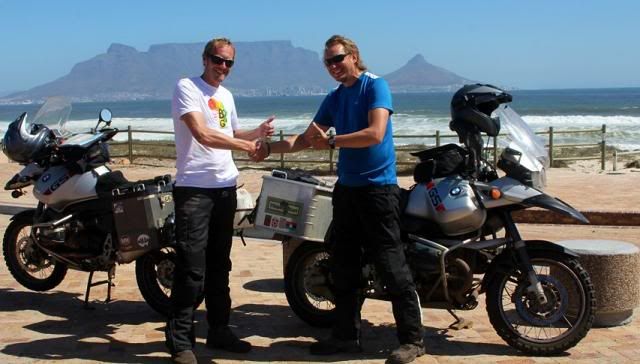 Adrian and Lauren

This trip has been amazing; we've have met so many wonderful people along the way. Thinking back to our troubled start; Adrian's crash and my bike being stolen, it would not have been possible without the help of so many. The list is too long to mention them all, but they know who they are.
One final thank-you to everyone who donated to our chosen charity; Riders for Health. For those still wishing to donate, it is not too late!
And that's it really. We can now tick the box that says "Ridden the length of Africa". We said our farewells, Adrian mumbled something about needing to be a work in a week and we rode off into the distance.
Pondering ideas of continuing travelling, I rode on to my parents' home in Cape Town and did a quick internet search on "motorcycle shipping Cape Town to Buenos Aires".