South Africa Part 1 – The Big Easy
Completing our final border crossing of this trip and entering South Africa was such an emotional experience. This time I was experiencing the sites and roads of my country of birth on a motorcycle, a mode of transport I had only become passionate about after leaving South Africa over 11 years ago.
We stopped in the small border town of Messina for some supplies. This town is nothing special by South African standards, but for us it felt like they had lined the streets with a welcome party. We walked into a Spar supermarket and stocked up on nostalgia. Brands we knew from our childhood filled our basket faster than you can say "howzit my bru".
We overnighted at possibly one of the most organised campsites in the universe. We pitched tent at a resort outside Tchipise, which is famous for its hot springs. We used this as a prime opportunity to soak our prematurely aged bodies in monkey-hot pools (ooh-ooh, aah-aah).
The quality camping in Tchipise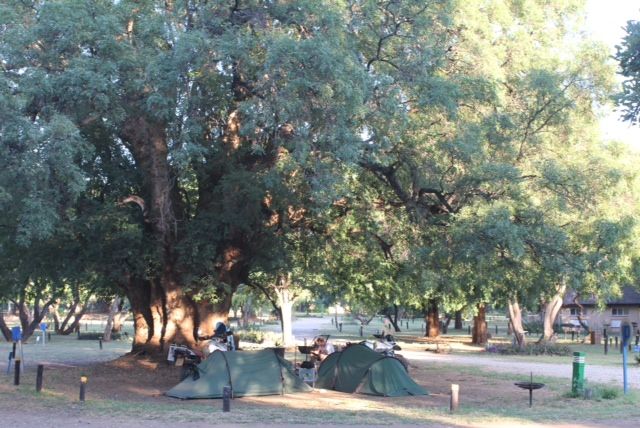 The next day we negotiated the scenic routes and dramatic passes of the Limpopo Province towards Tzaneen, where we were very graciously hosted by some old friends, Chris and Brit Dando on their fabulous farm. Chris mended my broken side stand with some farmer ingenuity, "guaranteed to get you to Cape Town", in his words. So far so good!
The deck on the Dando's farm:

A weld of quality not seen north of the Limpopo: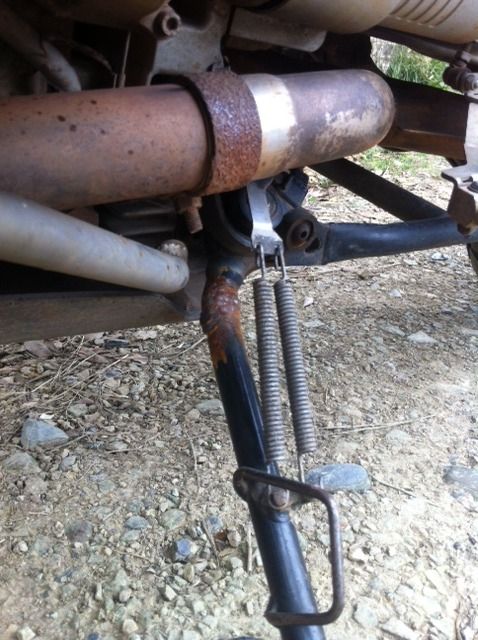 After Tzaneen we made for South Africa's city of gold and found ourselves on the monstrously huge and busy motorways of Johannesburg at rush hour on a Friday afternoon. It was quite intimidating, but our training in Nigeria saw us through. Russ and I parted company and he made for family in the southern suburbs and I made for my sister and brother-in-law in Randburg. I rolled in to a very warm welcome complete with a "Welcome to South Africa" banner created by my nephews. Russell joined us the next day and we enjoyed a fantastic braai with a few extra friends not seen in a while. We also made a point of changing our rear tyre back to a more road-biased tread since most of the off-road sections were now behind us.
Our welcome banner: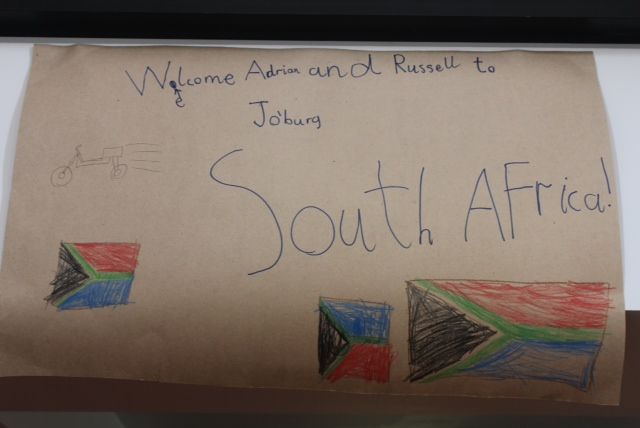 After a blissful 4 days of pampering, we were back on the road. We headed eastwards and overnighted in a campsite in the rural town of Piet Retief. We met a very interesting fellow camper who was working in the area as part of a railway maintenance crew. Our discussions on how we were seeing a lot of positives in South Africa led to him telling us how he was a former member of a right-wing extremist group. He discussed how his core beliefs has changed and how he thinks things are moving towards an optimistic outcome. The was profoundly refreshing to both Russ and I, and we really hope this sentiment is prevalent throughout the country.
Crossing the mighty Vaal River, which was little more than a ditch in this part of the world: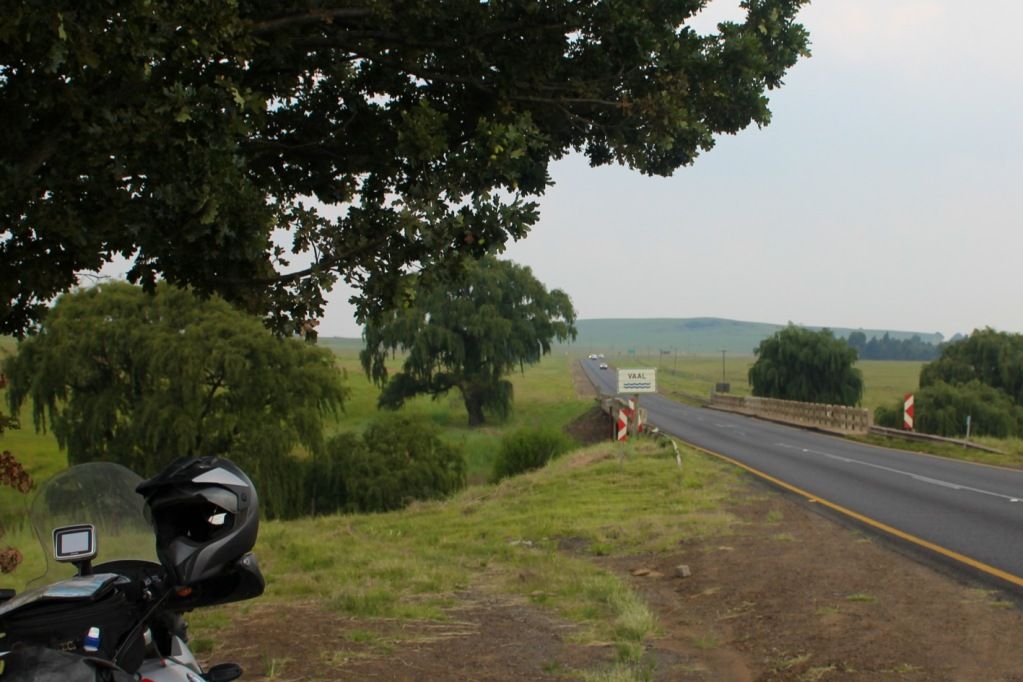 The next day we rode through the highlands and lowlands of northern Kwazulu-Natal. This area was very familiar to me, and being immersed in this breathtaking scenery on a motorcycle brought a lump to the throat. Heading to my home town of Empangeni, we descended down the Melmoth pass straight into a wall of heat and humidity we had not experienced since the Congo. Ah, it was good to be home.
We received a motherly welcome (by my mother of course) and caught up on all the local happenings. My mother used her influence to invite a reporter from the local newspaper round, and Russell and I were interviewed about our trip and the Riders for Health campaign. Thanks to this we made it into the next printed issue of the Zululand Observer! We also took a tour of my mother's amazing community project she has set up and has been running for the last 5 years, and it wouldn't be right if I didn't make mention of Zikulise. More information can be found here: http://www.zikulise.org.za
It was then off to the neighbourly town of Richards Bay where we spent the day in the company of my father and his wife Frieda. There's nothing quite like relaxing in a pool with a beer in hand followed by a braai. We bantered the evening away and enjoyed a traditional Natal breakfast fry-up the following morning, complete with fried bananas.
Travelling down the coast it was a short hop to Durban where we spent the weekend with my brother David. It was interesting to see how the city has changed since living here during my university years. There has been a massive increase in the tourist infrastructure thanks to the 2010 Football World Cup, and the city is all the better for it.
It was time to leave family and friends for a while and continue our coastal journey south through the rugged coastal region aptly known as the Wild Coast. We entered Pondoland and stayed in the beautifully laid-back town of Port St Johns. We intended to just stay the night, but this turned into 3. They even have a name for it, "Pondo Fever".
The rolling green hills of the Transkei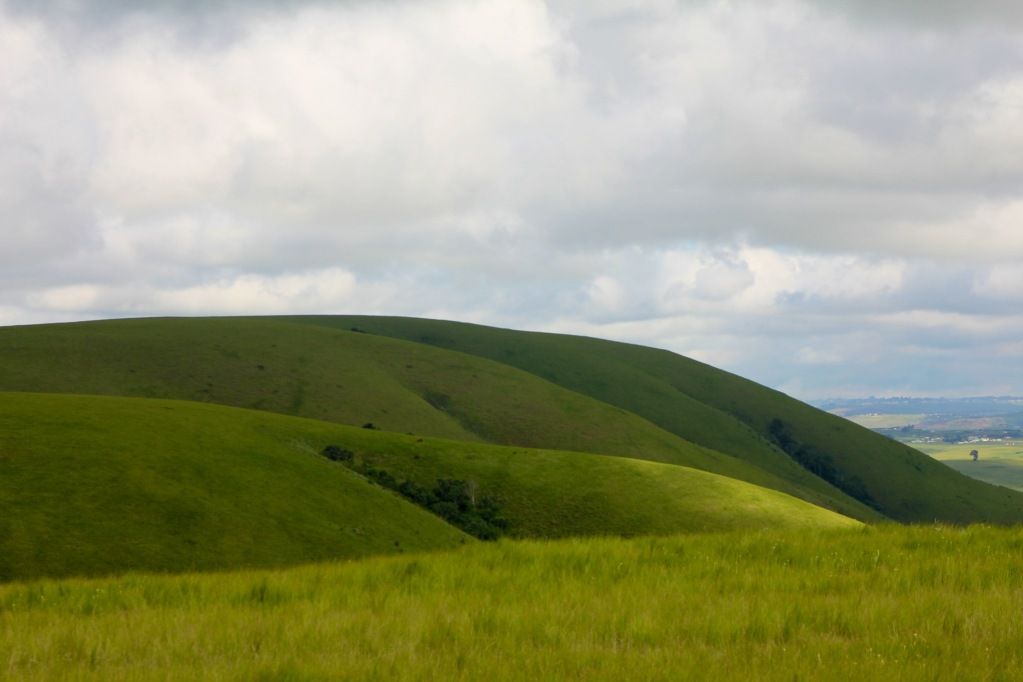 The unspoilt beaches around Port St Johns

Our hiking companion who adopted us for the day: