Rep of Congo and the notorious Dolisie-Brazza highway
Immediately after entering Congo the gravel road deteriorated, it's clearly not maintained like the road on the Gabon side. Mud puddles quickly became the norm. After the first village we come across a truck stuck in waist deep mud, completely blocking the road. Some locals had cut an alternate track and wanted to charge us 5000CFA ($10) each to use their diversion. After an bit of haggling we agreed on 5000CFA for both bikes. They pushed Adrian through with such enthusiasm that he could have cut the engine and still made it through. It might seem like a con but these diversion cutters provide a valuable service, without them the traffic would stop completely, like the truck found out.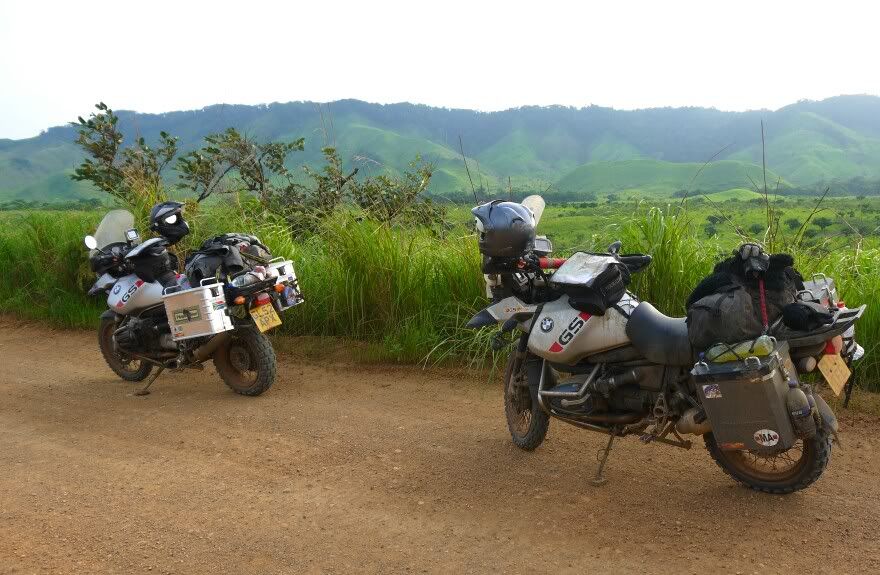 We continue south towards Dolisie, another 230 km along gravel piste. As we ride through the roadside villages, the locals stop and stare. This is not unusual on our trip, but in the Congo they are quite reserved, almost wary of us. We started to wave unprompted and they returned our greetings with big waves and smiles, sometimes even cheering. We stop for a drink and everyone gathers round and asks if we are tourists, our confirmation is met with smiles and nods. It's as if they know that when the tourists start to return it will help the country recover from the many years of war.
The road improves and we are able to pick up speed, but it's a long hard slog to Dolisie which takes us about 7 hours.
From Dolisie we join the main road east to Brazzaville. It's marked as a dotted red primary road on the Michelin map for most of the 356 km's, but it's one of Africa's most notorious highways. Known for being a muddy mess during the rainy season, we have our concerns as we are passing through during the tail end of the second and lesser rainy season.
The road starts off much the same as the previous day; a mix of fast gravel, jarring pot holes and lose shale. It's hard going, but we progress well through 210 kms towards our stop over at Mindouli. From there the map indicates a solid red major road; we think it should be fine until Brazza. The scenery is stunning, lush rolling hills dotted with small villages. The road improves to hard packed mud; it would be an absolute nightmare in the wet, slippery and extremely slow going. We think we have passed the worst of it, extremely grateful that it's dry.
Just before Mindouli we meet Dominik, a Belgian travelling the opposite direction on a Yamaha XT660. He is the first overlander we have met since Mauritania and he gives us some bad news. The 63 km stretch of road from Mindouli to Kinkala deteriorates, a lot. And it's been raining, recently.
Our night in Mindouli is filled with fear, but we reassure ourselves knowing it's only 63km and the rest is new tar. The next day we set of and the road immediately deteriorates with frequent mud puddles. Its only 63kms to the new tar…
Soon we meet our first obstacle, a steep gully with a muddy bottom. As we pull over to walk our route, a Toyota Corolla of questionable road worthiness pulls up in front of us blocking our route. He'll never make it. Pausing briefly, he blasts down and gets stuck. Now we are stuck to. Idiot. We find a diversion around the gully, but it involves a small track through a stream. We off-load our panniers making the bikes lighter. Adrian goes first but gets stuck in mud a foot deep. We try unsuccessfully but can't get it out, it's in too deep. A Land Rover arrives with a few people, we ask them for some assistance and they help us get Adrian's bike unstuck. They went absolutely crazy when he reached the top of the hill. We turn our attention to the Corolla, the Land Rover crew shaking their heads at the Corolla for even attempting the gully. It takes a lot of effort but we eventually get him free.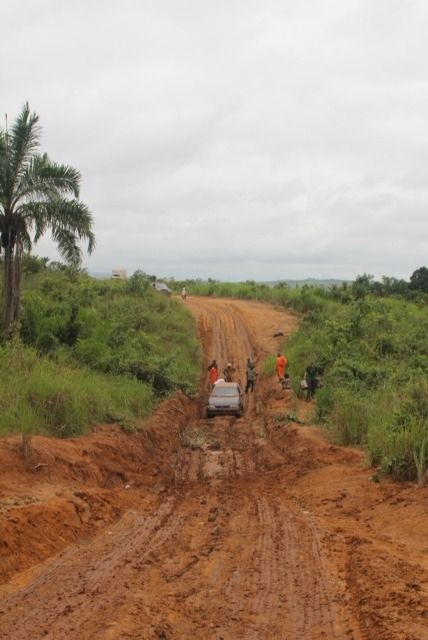 About an hour later we come to the next obstacle and it's a bad one. 40m of mud has trapped a truck and a car, the mud is waist deep. There is a queue of cars and trucks waiting to pass, including the Land Rover. We go over and have a chat, their group consists of Madame Genevieve, their driver and 2 passengers. They show us an alternate route which we could get the bikes through, it's a mess to, but less of a mess. While we have our lunch, some deviation cutters start converting the alternate route into a proper deviation. The Land Rover and Corolla make it through. We quickly suit up and cross before it gets blocked, it will get blocked, it just a matter of time.
A little while later we come across the Landy, its hood is up. We stop to ask if they are alright. "C'est bon, small fire, but fine. We leave now".
We all resume, them blasting ahead. It's now 15:00 and we have done about 35kms, halfway. It's hot, hard going, we are extremely tired and running low on water.
The next obstacle is worse, a 30m stretch of waist deep mud. 3 trucks are stuck, the second and third both tried unsuccessfully to pass the first, resulting in the entire width being blocked. This time there is no space for us to go around. As we pull up Madame from the Landy tells us that they have hired local guide to show them a diversion using local village roads. We join the Landy and the Corolla. We don't have much time left, it will be dark in a couple of hours and we have a long way to go still.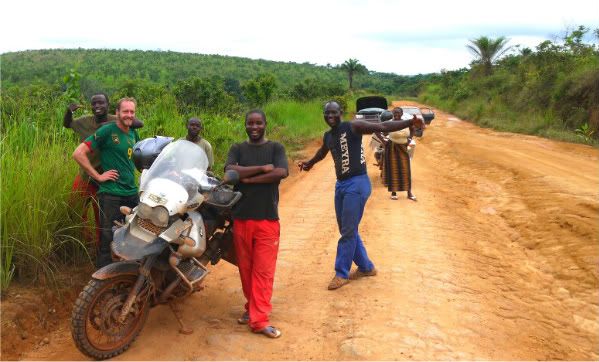 The Landy crew; Madame at the back and Driver in blue. Corolla driver is the small bloke behind my windscreen, idiot.
The track through the local villages is stunning; it takes us through a mix of un-spoilt savannah and lush forests. We stop briefly while they lay 2 wooden planks over a small stream. The bikes cross the stream using a single plank. It was pretty scary but we have stopped worrying by now, we are too tired and thirsty to worry. We have to get to Kinkala before dark.
By now the mud has let up, only to be replaced by soft sand. Being of questionable road worthiness, with a less than questionable driver, the Corolla gets stuck. Idiot. The Landy pulls them out; we finish the last of our water and continue. The Corolla gets stuck and rescued again. This little game gets repeated several times. Its hard going riding through the sand, the bikes take a pounding and so do we. We hit a particularly deep section of sand, the Corolla gets stuck. Idiot. This time Madame refuses to rescue the Corolla, "This man is an idiot, he can't drive! I'm not getting stuck in the dark because of him!"
In shame, Corolla guy stares at his feet like a naughty child. This is a big problem for us because he is blocking us, again. We plead with Madame to rescue him one final time so we can pass. She agrees to rescue Idiot Corolla guy on condition that he pulls over. We make it extremely clear to him, "You must pull over".
It's very clear to everyone. Everyone understands the plan. With difficulty we eventually get the Corolla free. Idiot guy guns it, straight. And then gets stuck again. We would have shouted at him, but we have no energy left. We leave the shouting to Madame and she does a good job of telling him what we think. He stares at his feet in shame.
Fortunately we are able to dig a small deviation around him. But now the Landy is also stuck, so we dig a second diversion around them. We say goodbye to Madame and the Landy crew, they were awesome but it's getting dark quickly and we have to leave asap. The sand gets deeper, up and down steep hills. Tired, very thirsty. The sand gets worse. No energy left.
In the distance we see an intersection. Suddenly a bush taxi blasts across the intersection and then a moto. We reach the intersection, its hard underneath. Tar, finally…
What should have been 63km ending up being 90km because of the diversions. And it took us 9 hours. 9 long and hard hours. Nothing on the trip has been as difficult, except obtaining an Angolan visa, but that's another story.