Mali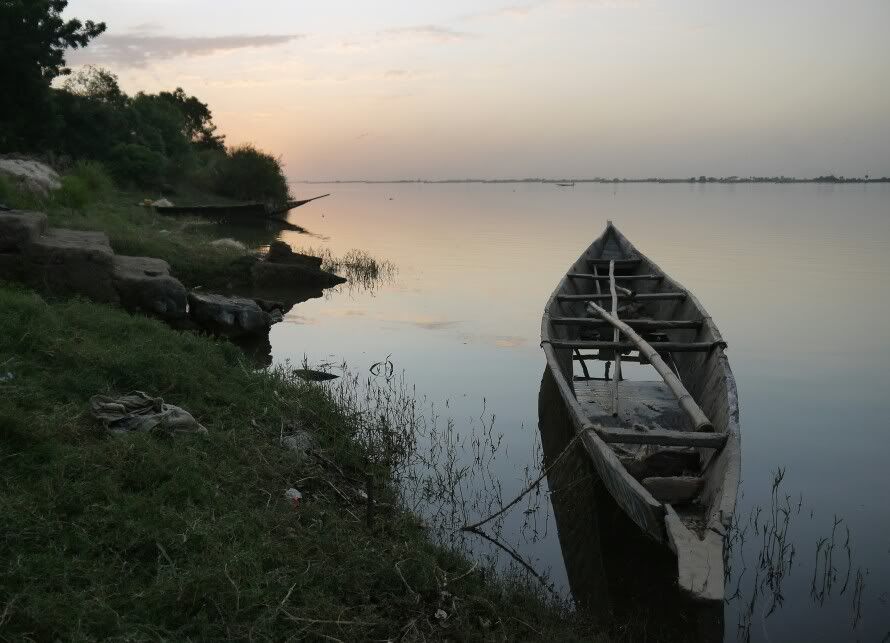 Wow, what a difference a couple of hundred km's can make. We headed south leaving desolate Mauritania and entered Mali. Immediately the landscape becomes greener and the people friendlier. Cattle replace camels, shepherds reappear and so the road kill carcasses vanish. Women wear bright clothing, small children smile and wave before welcoming us with their usual greeting of "Monsieur, cadeau pour moi".
We arrived at the border town of Nioro with Steve and Fokker, a South African on a XT600 and Dutchman on a DRZ400. They are also heading to Cape Town and we have been travelling with them on and off since Nouachkott. We find a small campsite in the centre of town. I say campsite, but parking lot with a shower is a more apt description.
There is a good vibe in town and music is played loudly everywhere. And they have beers, of which many are consumed whilst we celebrate not being in Mauritania any more.

Our "campsite" in Nioro with Steve and Fokker
The next day we make plans to meet up with Steve and Fokker in Ghana before going our separate ways. We aim for Bamoko, the capital of Mali, to stock up on provision and repeat the constant hassle of changing money. Bamoko is a nightmare; it takes 2 hours through dusty over-crowded streets to find a cheap hotel (cheap by Bamoko standards). We pop into the Mexican restaurant next door where Malian waiters are dressed up as cowboys and the bar girls are all Ukrainians blondes. We are not shocked by anything anymore. We sip a few overpriced beers whilst the Ukrainians flirt badly in Pidgin English. They have not left the capital since arriving 3 months ago. We've been here 3 hours and can't wait to leave.
We follow the Niger River west, camping for 2 days at Segou adjacent Bozo fishing villages. Segou is extremely laid back and exactly the kind of place we signed up for.
It's difficult to explain how different Mali and Mauritania are, geographically so close, but the people and cultures are so different. The heat being the only constant, it's just as oppressive.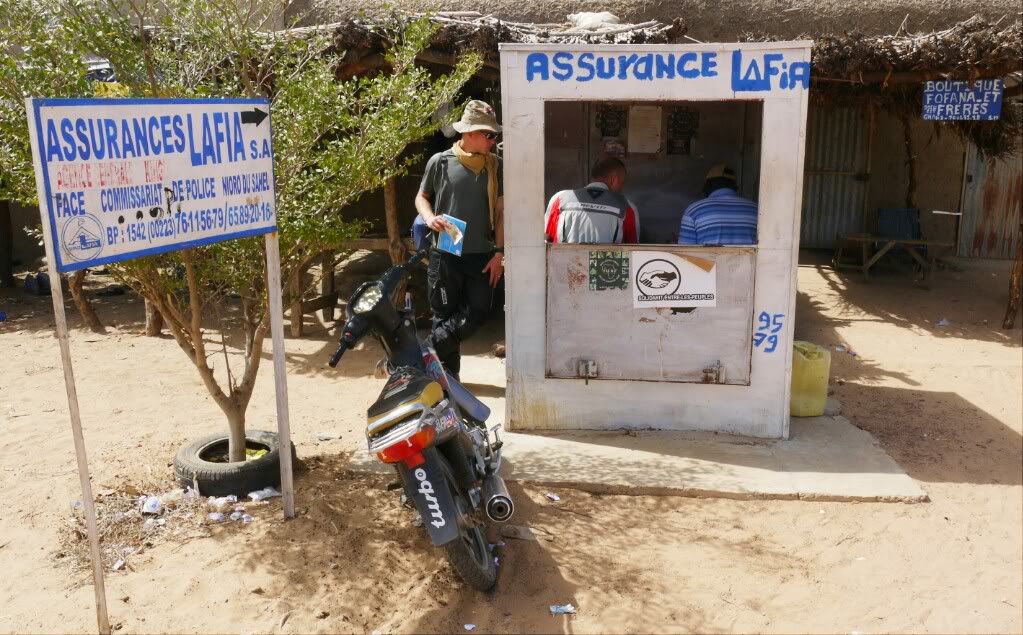 Popping into the insurance shop to pick up our Carte Brune
Continuing west along the Niger, we head for the ancient mud built town of Djenne. A short ferry across the river takes us to the UNESCO Heritage site. It's quite spectacular with its famous mud built Mosque.
We hire a guide, his sole purpose is to fend off other over-zealous guides. Access to the Mosque is prohibited to non-Muslims, but access can be arranged via the Imam's son, for a small fee of course. It's quite spectacular with its mud exterior and massive 100 load bearing columns. Once a year, after the rains, all the villagers join together and reclad the Mosque's exterior.
We like it here; the people are friendly and the country is beautiful, but it's time to head on to Burkina Faso…