Gabon-Bon
Sweet, sweet Gabon, how we loved your roads: smooth, new and awesome!
Gabon was one huge surprise for us. Reading other travellers accounts of this place did not paint it in a favourable light. Unfriendly people, especially if you couldn't speak French, bad roads, poor facilities and amenities, the list of grievances went on. And so armed with this knowledge we entered into Gabon with much trepidation and caution. It was all for naught. Other than having to progress some distance into the country before having our passports stamped, the border crossing from Cameroon into Gabon was seamless.
Communicating with the locals in our English French wasn't a problem and generated the usual smiles. The roads, however, are what made us giggle like little children. These empty race-track grade sweeping curves and gentle undulations through majestic rain forests welled up tears of joy at every peg-grazing turn. We pushed our bikes hard and fast at every opportunity. Well, as hard and fast as a packed R1150GS Adventure on off-road tyres would let us.
Our first 2 days were spent enjoying the fine roads and unbelievable scenery. We had no need to enter the capital Libreville and since it wasn't en route, we happily avoided it. We hit a few "iffy" sections where the old road is currently being repaired, but it wasn't long before we were back on track, so to speak. We also crossed the Equator, which was a massive milestone for us and we made sure of the photo opportunity.
After Mutzig, we then made for Lambarene, a small town made famous by the Austrian physician Dr. Albert Schweitzer. It's a picturesque town surrounded by the waters of the Ogooue River. Since it was Christmas, we thought we would spend a few days here to relax, contact loved ones and do the usual routine of washing and stocking up. We stayed at the fantastically clean and relaxed Catholic Mission, which we thought was quite fitting, and took advantage of their Nativity Scene for our Christmas Greeting. We also utilised their well-equipped kitchen to whip up a Christmas feast of ox-tail stew, roast potatoes and a quality bean dish.
We toyed with the option of heading towards a few National Parks, but since we were chasing down visa dates which were expiring in countries ahead, and being warned about bad roads to and from these Parks (most visitors fly in), we decided against it.
After our little festive break, we continued heading south on brand-new roads and again enjoyed the hospitality of the Catholic Mission at the border town of Ndende. The next day we went to fill up the tanks before crossing, but the only petrol station in town was out of fuel. We didn't want to take a chance and cross borders without knowing what was on the other side, so we headed 30km in the wrong direction to find petrol. Fortunately the road was excellent (brand new, or course) and we were back at the border in no time.
We conducted the formalities and headed forth towards Congo. At the very last Gabonese military check point, we attracted the following caution: "the roads in Congo are very bad". We entered with trepidation and caution. Sound familiar? The good times couldn't last forever…
The awesome sweeping roads we encountered shortly after entering Gabon:
Russ giving it horns as only Captain Slow knows how: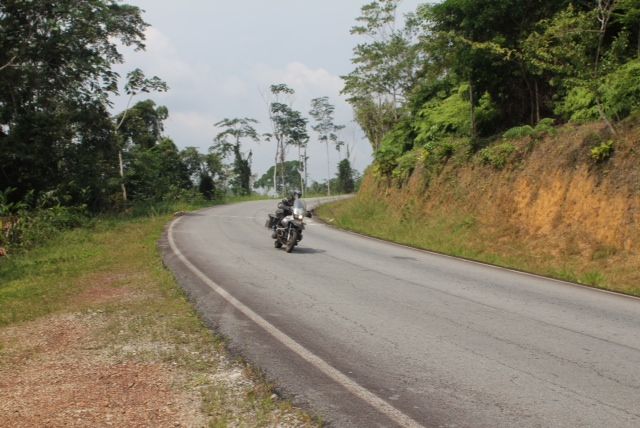 A little vid of our time on the road:

Proof we didn't drag the sign with us: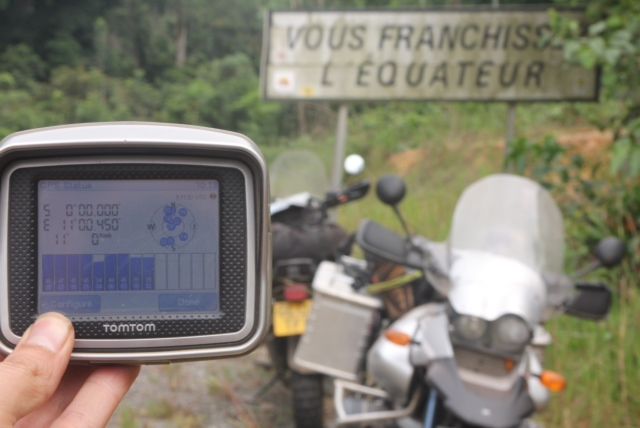 The sell-out (or money) shot. Yes, that is the recent copy of Adventure Bike Rider: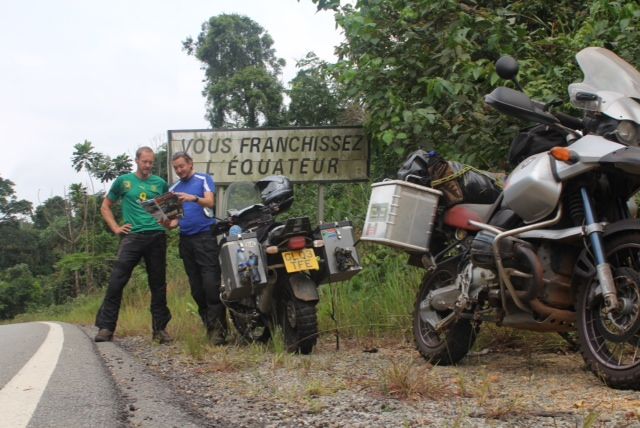 Our Christmas Card: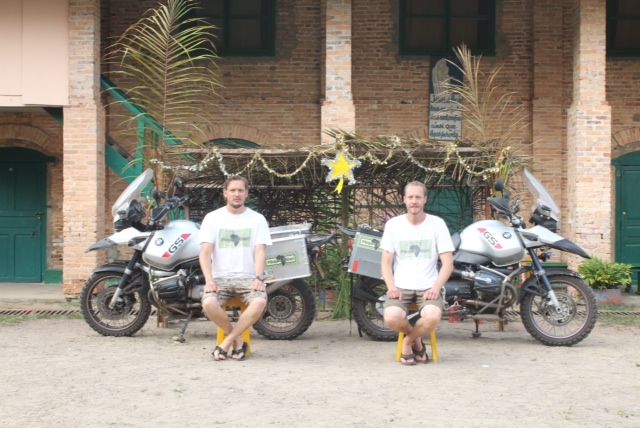 And our Christmas message:

Our little feast: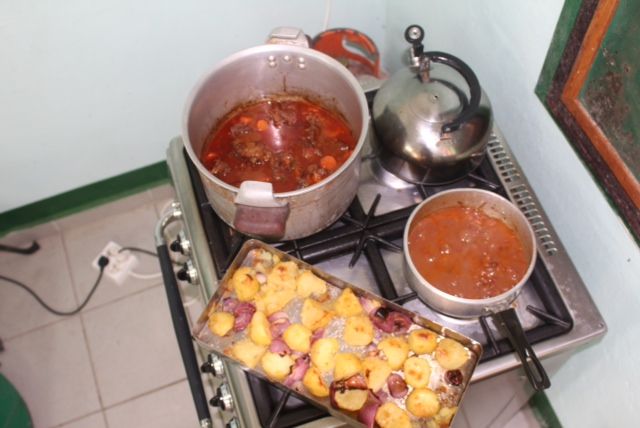 Russ doing some roadside pannier panel beating. Apparently hitting a deep puddle at full speed is the wrong option: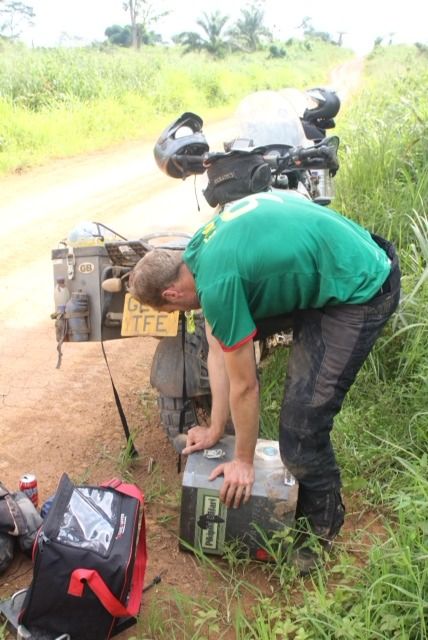 A little dirty: