DRC and the curse of the Angolan visa
The plan was to head straight down to Matadi on the DRC border, where we would pick up our Angolan visas, but we had heard that people had recently been turned away and told to return to Kinshasa. So we decided to stay in Kinshasa and try to get the visa there. This would mean a few more days in one of the world's most dirty, dangerous and expensive cities.
During our previous unsuccessful Angolan visa attempt in Brazza, they had asked for a typed letter of application, colour passport photocopies, yellow fever certificates and sworn statements that we would not stay on in Angola (unlikely). They also wanted copies of our onward Namibian visa, which we said was not required for UK citizens. Clearly not enough for them, they then asked for a letter from the Namibian embassy saying we did not need visas. Basically they just did not want us there.
With this in mind we hit the Angolan embassy in Kinshasa with every piece of documentation we thought could possibly be requested. But no, we did not even get that far, they just were not issuing overland visas. We could get a visa if we flew in, but not if we rode in. We explained our situation and were told the best solution was to ride back home the way we had come.
We popped round the corner to the UK embassy to see if they could help. We had met the Ambassador 2 days before and he mentioned that he was on good terms with the Angolan Ambassador. The embassy was pretty quiet, in fact they were quite surprised to see us; "We don't get many tourists here".
They were very supportive, but said we would not hear anything until Monday. Awesome, weekend in Kinshasa.
On Monday the UK embassy said they were working on the problem and the Angolans had agreed we could come round on Tuesday and a visa would be issued. We pulled round early Tuesday morning and joined the usual scrum that is referred to as a queue here. We eventually made it to the back office where we could speak to someone who vaguely knew what was going on. Again no, visas are not being issued. Apparently the wrong people had been spoken to and the answer in no uncertain terms was 'no'.
Angola can shove their visa were the sun don't shine. If they don't want tourists, we'll take our money elsewhere.
Looking on a map there are not many feasible overland options apart from going through Angola, it's pretty much your only choice. You can ship to Namibia, which will take weeks. Fly to East Africa, which will cost an arm and a leg. Or ride to Lubumbashi in south east DRC which is just a short hop to Zambia. The Kinshasa-Lubumbashi road is not really an option for us. The 2000km of muddy tracks is one of Africa's most notorious roads. Being the rainy season it would take about a month. The video at the end of this post sums it up well.
We have had enough adventure recently, so we did what any sane person would do. We decided to throw money at the problem. A very helpful Belgium travel agent put us on to a friend of hers who runs a air cargo company. We popped round to the company and they said they can fly the bikes to Lubumbashi and take us on the same flight. Awesome. Nervously we brought up the subject of cost. Free, no charge. We stood there speechless with our jaws on the floor. There must be a catch…
We returned the next day to drop of the bikes, still nervous that there was a catch. The bikes were drained of fuel, weighed and loaded.
They even picked us up from our digs, the St. Annes Catholic Mission, at 04:00 am and brought us to the airport. Still nervous that there was a catch, we boarded the DC8 and were shown our seats in the cockpit. Only as we took off did we actually realise that everything was good. Our 3 pilots were great, seriously professional until the auto-pilot kicked in and then the jokes flowed thick and fast. The in-flight meal of sandwiches contained the 2 rarest ingredients in the Congo, both ham and cheese.

Our pilots on the DC8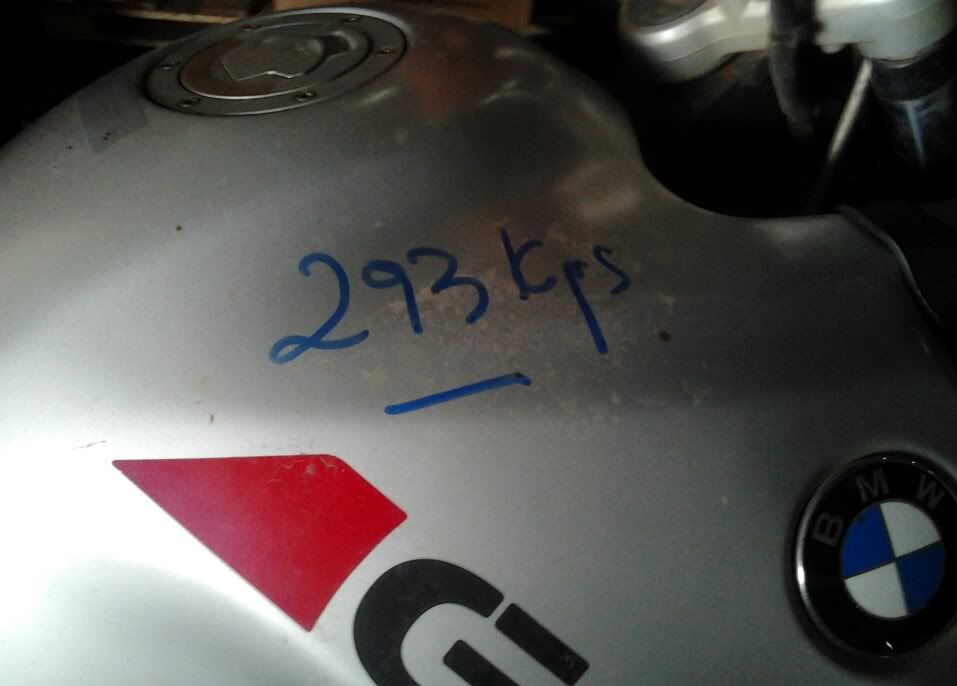 293kg, dry weight fully loaded
We owe these guys so much, without their help we would probably still be stuck in Kinshasa. However, it has completely changed our route. Suddenly we find ourselves in south eastern Africa leaving behind francophone Africa. It is also a more established overland route, so things should get easier.
More on that Lubumbashi "road"