Do the Congo
After our session in the mud, our trip from Kinkala to Brazzaville was over in a flash. The road was excellent, and being a weekend, relatively quiet. We made straight for Hotel Hippocampe, where it is known they offer refuge to weary overland travellers such as ourselves. The owners Olivier and his wife Catharine let us stay despite the hotel being closed for renovations, and we gladly accepted.
We spent the next 5 days cleaning EVERYTHING.  The bikes, our gear, ourselves, everything. Our little New Years eve party was possibly the sorriest New Years on the planet.  Since we didn't know anyone, our little nightly venture turned out to be duller than a bag of hammers. It basically comprised a few beers at our "local". When I say local, I mean a few broken plastic chairs in a derelict building mainly frequented by the soldiers based at the garrison across the road. At least the beer was cheap.
As we found out the following evening, the Congolese choose to rather celebrate this holiday on the 1st. This would explain the quiet scenes we were encountering the night before, and the manic street scenes we bore witness to the following evening. It wasn't pretty and we didn't have our party hats on.
So the next step of our journey was to get into Kinshasa, literally only 1km away. This happens to be on the other side of the mighty Congo River. There is a car ferry which does the trip twice a day, and we heard it was running for a change (except on Holiday and Sundays). While we didn't rush to cross, we were also conscious that our DRC visas were due to expire on the 4th. So on the 3rd, while Russell was fixing his panniers (again) I went down to the ferry port to have a look and enquire about crossing the following day. I was told by numerous people that the next day was a public holiday in DRC, and the ferry won't be running. Mild panic started to set it. I rushed back to the digs, told Russell about this and immediately took our passports to the DRC embassy to plead my case. I asked them for an extension date on our visas, by just one day. Computer says no. The woman said I need to apply for a new visa. I said ok, I want to apply for a new visa. She said no, this has to be done in your country of residence. My mouth was going dry as the panic levels started to increase. If we couldn't go, this would mean we would be stuck in The Republic of Congo for weeks trying to either get new visas for DRC, or try and ship the bikes around somehow – all which was way too much to contemplate. After about 45 minutes of begging and pleading, she said if we leave now, we should be able to catch the last ferry of the day. I said that it had probably left already, to which retorted, it always leaves late. I sprinted back to the hotel, explained our plight to Russell and we decided to make a run for it. We packed up so fast, everything had our sweat dripping all over it. We rushed down to the terminal only to be told the ferry had left already, on time for once. I now had the proper dry mouth panic sweats. After a few deep breaths, we then started chatting to a few of the fixers there and told them we wanted to go tomorrow, but we were aware there was no car ferry. Was there some other way? In typical African style, they said, no problem, motorbikes can go on the smaller boats, which will be running tomorrow. Russ and I had our reservations, but we had to at least try.
So we went back to Hippocampe, and had a very nervous nights sleep. The next morning we went down to the port and it was all very quiet, as expected.  But there was no panic, we were expecting the worst. We hung around for a while and spotted one boat that would be suitable (out of about 5 that were moored there), and asked around. It seemed the owner of that boat was open to a little business. He saw dollar signs and we were willing to pay, but it was on and off and on and off and on the whole morning. We finally thought we were going to do this and Russ started the process of getting our passports stamped out when this man we hadn't seen before came bursting out of one of the buildings yelling there was no way we were going, showing signs like we would be handcuffed if we tried. I tried to explain that the main chef said it was ok, but he said HE was the main chef. The mouth started to go dry again at this point, and I started looking around for help, any help. But just as suddenly as it kicked off, it was all calm again and it was back on. As it turned out he was the local chief of police and the boat owner had a few words with him on the side. They weren't quiet words, but they seemed to quell his desire to keep us in Brazzaville all the same.
There was also quite a strong sense of urgency about everything, we're not sure why. The boat owner wanted our money straight away, but I didn't want to pay until the bikes were on the boat. Fortunately these porters, who knew they were going to get some serious cash out of us, ignored everyone and both bikes and all our gear were on the boat in a blink of an eye.  We paid the owner and the porters and suddenly the engines were running, we were moving and on our way! We couldn't believe it, but we knew it wasn't over yet. The crossing was over very quickly and there was only time for one quick picture. On the other side, we met an equally eager group of new porters who also had a nose for dollars, and the bikes were off and up the jetty onto terra firma faster than you can say "Democratic Republic of Congo".
Russ and I just stared at each other in disbelief. As we were gathering our wits along with our documents to be presented to the DRC officials, we heard in crisp clear English, "are those UK plates?". We turned around to see a gentleman in a suit walking towards us. Upon further discussion, we were fortunate enough to meet the UK ambassador to the DRC.  He gave me his card and offered help should we need it, and some advice on things to see along the route to Matadi. It was all quite surreal. As it turns out, we did need his help, but that's another story.
For the next hour or so, Russ and I went through a fairly lengthy but relaxed check-in procedure. There was the usual form filling in, and the usual extra questions that all Francophone countries seem to ask: father's name, mother's name, occupation, place of birth, favourite fruit, etc.
We did have our DRC visas very closely examined. They checked and double checked the expiration date, but they finally stamped us in. I then searched out the customs officer to stamp our bike's Carnets. She was found sitting outside her office receiving a manicure by one of the mobile street "beauticians" that work the streets of Kinshasa. They're obviously not beauticians, but I have no idea what else to call them. So I had to hang around for 5 minutes or so for the services to be rendered. Once done, she unlocked her office and, with a bit of coaching from me, both carnets were filled in, stamped and done. We were in!
The relief was immense! We felt like we'd won the lottery. Yes, I realise the irony. We actually paid out wads of cash to get that winning feeling.
Before we left Brazzaville, Olivier gave us some advice on a suitable place to stay in Kinshasa, which was the St Anne Catholic Mission, quite close to the ferry terminal. We asked around and went straight there. We are camped on their immaculate front lawn and it is truly a haven in a sea of expensive chaos. We are definitely very fortunate to be staying here while the next chapter of our trip unfolds, The Quest for the Angolan Visa. More information to come!
Us at Hippocampe just before we left. Do we look nervous?! Thanks to Olivier for taking the pic and emailing it to us!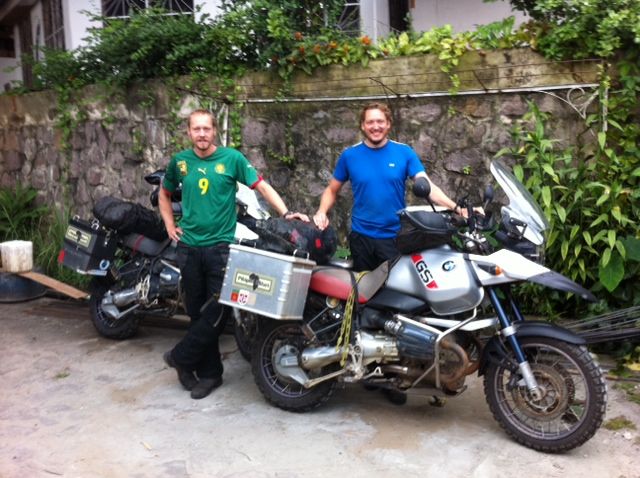 GS's squeezed on the passenger boat with Brazzaville getting smaller in the background: