Colombia, that's a wrap folks
I'm queuing at the border to get stamped out of Ecuador and I see one of the pesky moneychangers outside standing on my bike. I walk out and tell him to get off. He starts getting aggressive, making gun signs with his hand and shouting that he has friends in FARC, the Colombia terrorist group, waiting for me on the other side. I ask a policeman to keep an eye on the bike. The moneychanger carries on FARC this and FARC that.
I bit unsettled, I enter Colombia, my 25th and final country of the trip. I blast through to my first overnight stop in Pasto. I sort out off the usual paperwork that is required when entering a new country, road insurance and the rest. Colombia has a few extra "unique" requirements; your registration number needs to be displayed on your helmet, on a hi-viz vest and male riders can't carry male pillions. These rules were introduced to stop to the 'Motorcycle Assassins' that plagued Colombia in the 90's.  Sorting this out was surprisingly quick and easy; thanks to some super helpful locals. People here are extremely friendly, stopping to ask about my trip and seeing if I needed any help. My encounter at the Ecuador border seems completely unfounded.

Registration Number on your helmet, a legal requirement in Colombia to stop would-be 'Motor Assassins'
Continuing north to Medellin is slow going. Most of the route is through the mountains with tight bends and lots of slow trucks. Because the road is so twisty, the locals tend to overtake on blind corners, sometimes the only way to get past the trucks. More scary, is that you start to do the same; at least on the bike it is easier to filter back into your lane.
Medellin is a great city, agreeable altitude, mild all year round temperature and extremely lush with loads of inner city parks and gardens. It has am extremely cultured feel with a great nightlife.
I could have stayed longer, but after 9 months on the road the end is in sight and I'm now just clocking off miles. My daily routine has been to clock up some miles, find a hostal, make some friends for the night at the hostal bar, say goodbye the next day and repeat the process.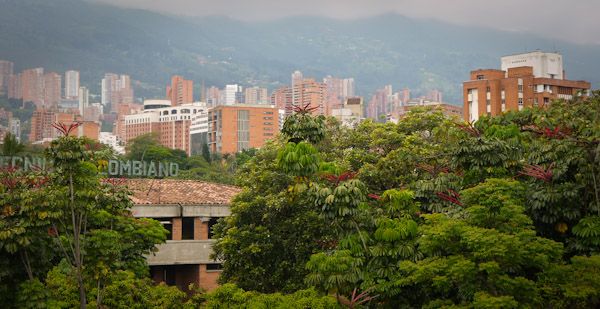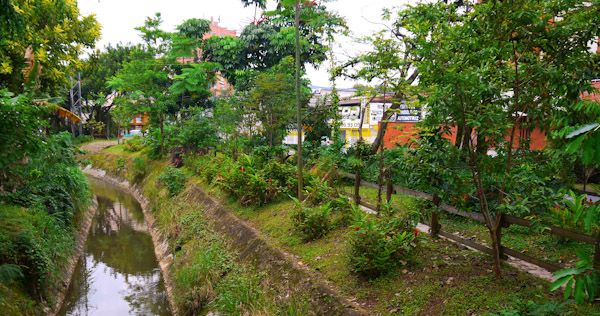 The lush parks of Medellin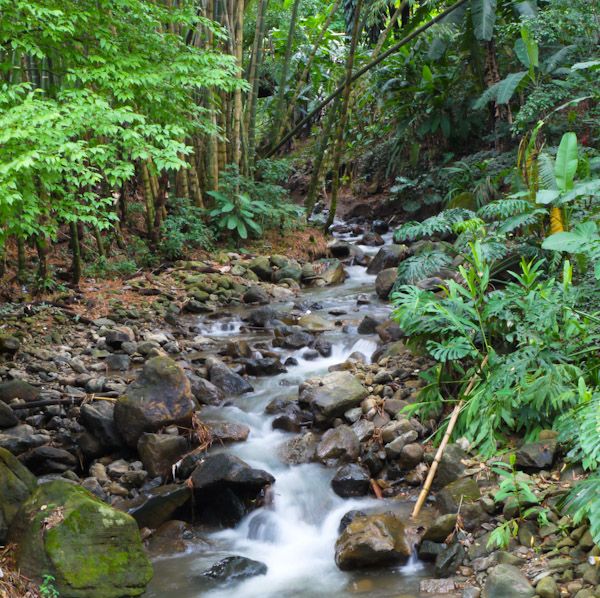 I had planned to go straight to Bogotá, my final stop, but I feel I need to make it to the Caribbean coast to be able to say I've completed South America. So I aim for Cartagena on the coast. Leaving Medellin the road descends into the fertile plains and straightens out. I could have kissed the tar. Don't get me wrong, I love mountain passes, but I have done my share of them recently. They are slow going. It feels great to get the bike into 6th gear, open it up and get some miles under my belt.
There are loads of police standing at attention on the side of the road. They don't stop you; which is great, they just give you a thumbs indicating all clear ahead. I love that; I wish all Police gave a thumbs up when I ride past.

In Colombia, motos don't pay for toll roads. Just bypass them in your own lane to the right of the toll, a sure sign of a civilised nation.

A road side vendor selling sugar cane juice, nothing in Colombia reinvigorates more.
Cartagena is another great little city, full of charm with its colonial walled city and fortress. Alas, no time to stick around, I have arranged to meet the bike's shipping agent in Bogotá in 3 days time.
I take one final stop in the little fishing village of Taganga, near Santa Marta, before heading south along the border with Venezuela. This coast is beautiful and it is going to become extremely popular soon as tourists return to Colombia in record numbers.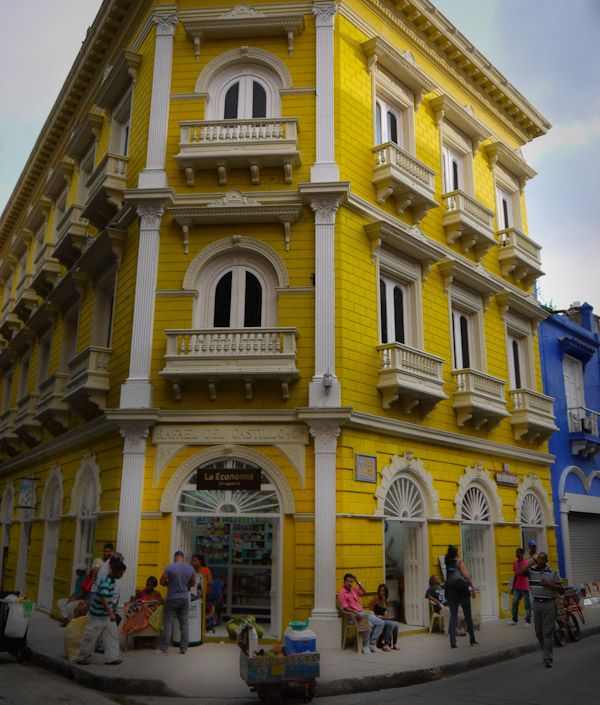 The colonial buildings of Cartagena's Old Town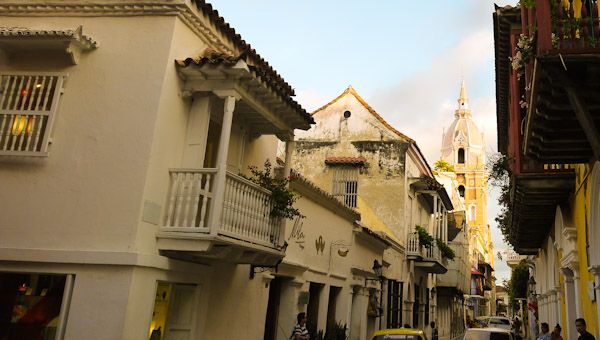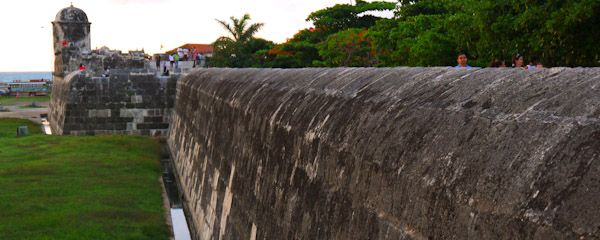 Opposite, the modern side of Cartegana

The fishing village of Taganga, near Santa Marta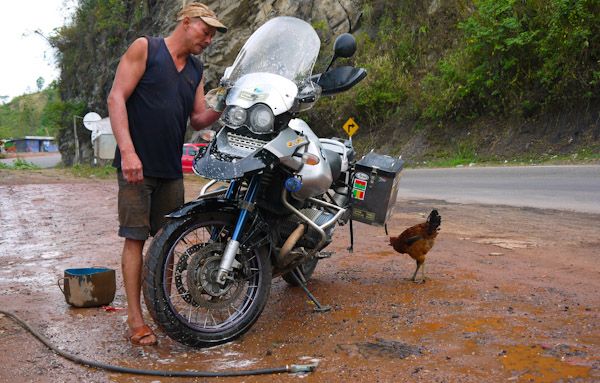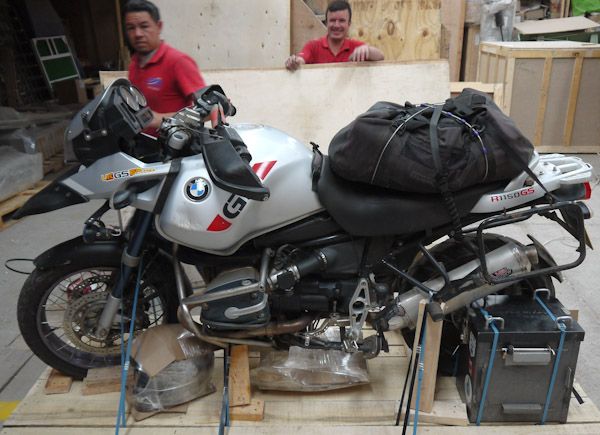 Crating the bike before flying it back to London
I stop at the top of the mountains overlooking Bogota and get the bike cleaned on the side of the road. The final 10kms lie ahead. I've clocked up 30,000km in the last 9 months. I have had an amazing life-changing experience, but I'm ready to go home now. Emotions are flying through my head as I rejoin Bogota's legendary traffic jams.
I find a hostal, find the bar and make a few new friends for the night.