Category Archives:
Bolivia
From Uyuni we continued north on to Potosi. Apart from 20kms which was not yet finished, the road was brand spanking new. And as with many of the roads here, it is designed like a race track, awesome bends to get your footpegs down on.
I was not expecting much from Potosi. It's history is heavily based on mining and has a terrible record dating back to the Spanish times. Millions have died in the mines. Unfortunately I only found out about the Miner's market, where you can buy dynamite, after I had left. Life is full of missed opportunities…
Bolivian border formalities were quick and straight forward, nothing like the horror stories that I had heard about. The differences between Argentina and Bolivia are immediately obvious, the shops explode out onto the streets and old ladies in bowler hats and traditional dress sell food from pavement stalls.
I had met up with 2 Canadian riders just south of the Bolivian border. Joca and Marianne were on a similar route to me and so we had decided to team up and do southern Bolivia together.
We left the main paved road at Tupiza to take the 200km dirt road to Uyuni. The first 100km were steep, ascending about 1000m to an altitude of around 3,800m. Steep switchbacks took us through valleys and along the ridges of the mountains.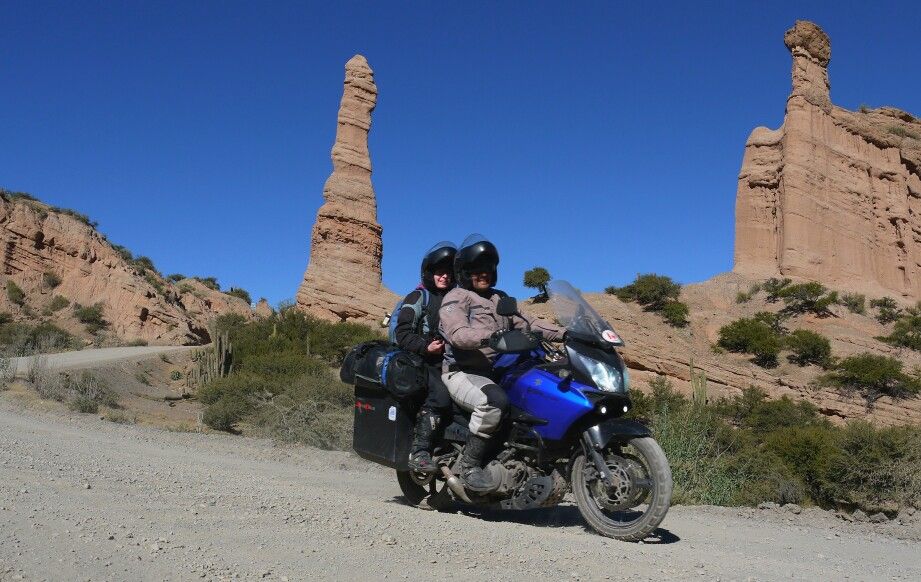 Joca and Marianne on their Suzuki Vstrom