Cameroon
The roads entering Cameroon, if you can call them that, were an absolute mess. The 30km of rutted mud tracks from Ekong to Etu took us 3 hours and this was the dry season. It would have been completely impassable in the wet.
The road improved marginally as we continued to Bamenda in the western highlands. We rejoined the main route from Nigeria and hit the motorway, brand new tar with awesome twisties through mountain passes and tropical rain forest. Amazing riding
Brand new tar in the Cameroonian Highlands
We have learnt to be very suspicious of new tar in Africa and soon our fears were confirmed, the road was not finished… The next 50kms was through a contruction site, the motorway traffic driving along and amongst the construction site. We rounded a corner and found the road completely blocked by a massive wall of earth. At the top, a Chinese bloke with a digger was throwing rubble down towards to road. None of the locals seemed to know what was happening, but they did not seem too concerned. So we waited, not that there was anything else that we could do. An hour later another bloke arrived with a bulldozer and cleared a new diversion. In true west African style the backlogged traffic began a frenzied race, overtaking any and everyone ahead of them.
Soon to be new tar, but for now the road is completely blocked
Rescued by a bulldozer
From the Highlands we headed down to Limbe on the south west coast. Beneath Mount Cameroon, the quiet seaside town of Limbe was originally founded by English missionaries and it has kept a colonial feel. With its lush rain forests and dark volcanic beaches, we thought Limbe would be a good place for a break. We checked into a great little place called Hotel Miramar inside the botanical gardens overlooking the sea. We were hoping to see Mount Cameroon but were not sure if it was possible from Limbe, it was quite cloudy when we arrived. We asked one of the staff:
"Can you see Mt Cameroon from Limbe?"
"Yes, everyday"
"But not today, because of the clouds?"
"No, not today. But everyday when there are no clouds."
We did not see Mt Cameroon during our week in Limbe, it was cloudy every day. Later, we learnt that the clouds marked the start of Hamattan, dry winds that blow dust from the Sahara. The dust is incredibly fine, 0.5 to 10 micrometers in diameter, creating a layer of cloudy mist throughout West Africa.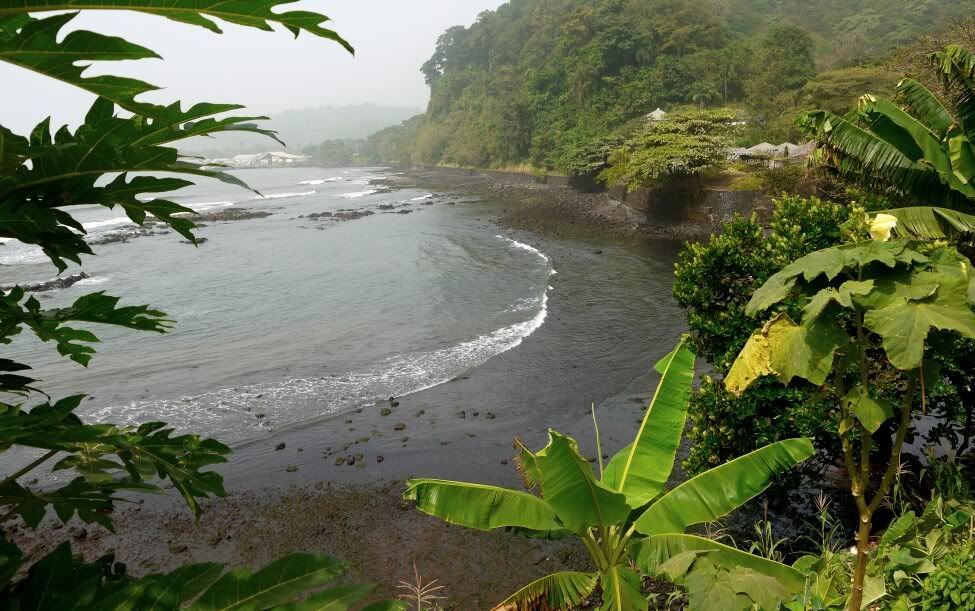 Limbe, with our hotel on the right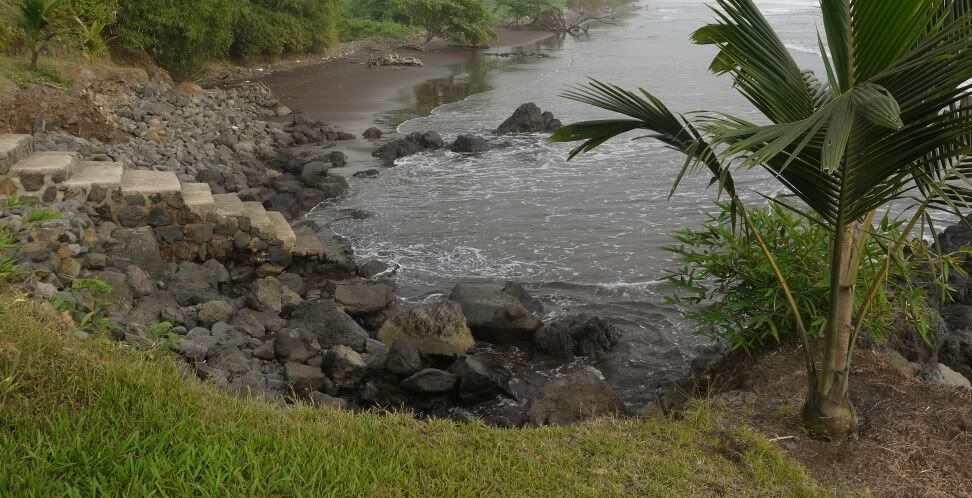 Chocolate coloured volcanic sand of 11 mile beach
Volcanic rocks, some as recent as 1999
We hired a guide to show us the rain forests. He jumped onto the back of my bike and directed us to the Bimbea rain forest and mangrove trail. The first thing you notice when you enter the rain forest is the humidity, it hits you like a wall. There is no movement in the air and within seconds you are drenched in sweat. We walked through the rain forest down to the mangroves where the forest spills out on the beach. The trees are spectacular, some are 300 years old and at least 3m in diameter. Some so old that you can walk through their hollowed out cores.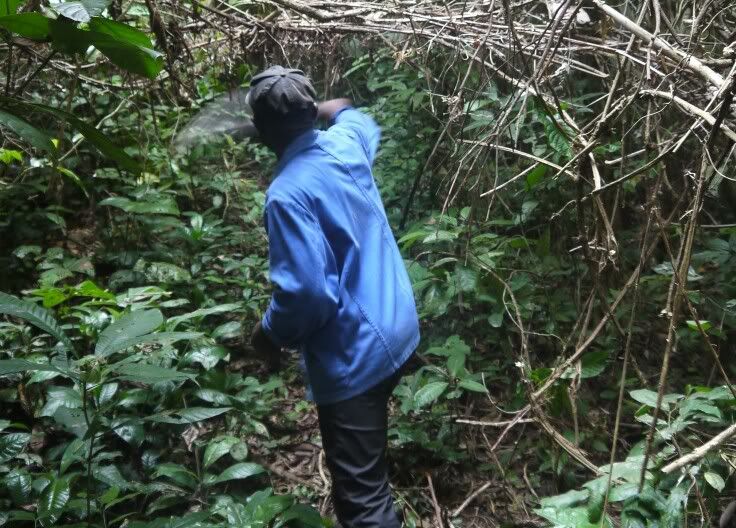 Jungle spilling out on to the beach
In the rain forest you are drenched within seconds
We stayed at Limbe for a week, mainly because its a great spot, but we were not sure how long it would take to get our Gabon visas in Yaounde. Not wanting to repeat our Rabat experience of staying in a Capital over the weekend, we aimed to submit our visa application on Monday.
En route to Yaounde, we were pulled over by police, expecting the usual hassle we launched into our normal routine, "We are tourists, Cameroon is beautiful, what football team do you support?"
Nothing, they were insistent that we pull into the lay-by. No information was forthcoming. After questioning a few other quarantined locals, we gathered that the president, Mr. Biya was driving passed. "This is tyranny, he acts like a dictator" they protested, "He can't treat us like slaves, sometimes we wait many hours like this"
To be fair, I'd do the same if I was president. Forget coups and assassination, the standard of driving out here is so bad that a car crash is probably the greatest threat to Mr. Biya. As soon as the president drove past, all hard feelings were forgotten and the crowd went crazy. We saw him by the way. Well, his hand at least.
Mr. Biya is well liked here and we can see why; the people are happy and the country relatively prosperous and stuff just seems to work. Of the African countries that we have passed through, Cameroon is the one that seems to have got it right. We have enjoyed it more here than anywhere else and would recommend it as a tourist destination. With the Presidential convoy gone, it was time to begin the usual west African frenzy of overtaking everyone ahead of you, we are getting quite good at this now.
We pressed on to Yaounde and found a place to stay at the Presbyterian Church guesthouse. Run by a French Cameroonian lady and her Swiss husband, this bizarre fusion of nationalities has lead to a rather strict, if unusual, set of rules;
No washing of clothes, that is what the servants are for.
No cooking in the kitchen, it is private.
Guests are to use the outside toilets after 22h00 (which is locked by the way)
You will be home by 21h00 or incur a 1000CFA fine per hour of lateness
Light manners are strictly forbidden (never did figured this one out)
We decided to camp, party because it was cheap but mainly because the dorm beds were packed in like sardines.
We submitted our Gabon visa application on Monday, handed over 100EUR in fees for yet another over-priced African visa and limped home feeling rather violated. With our visas ready the next day, it was goodbye to Cameroon and on to Gabon.
Gabon marks the beginning of the next stage, we move from west to central Africa and cross from the northern to southern hemispheres. As we cross the equator we will be moving from the dry to rainy season. The rain and the roads of central Africa are probably our biggest concern of the trip, more on that soon to follow…