Buenos Aires to the Atacama
Having freed the bike from the airport, I was all set to go. Driving out of Buenos Aires was a bit chaotic. They have wasted an awful lot of paint marking road lanes, those lines count for nought here. More confusing are their intersections, which are treated somewhere between 4 way stops and traffic lights, a random number of cars taking turns to cross in no apparent logical order. I've seen worse driving but there is a sense of order out here, sort of. Remember, it's your responsibility to get out of their way.
I had decided to skip Patagonia and head north west. I'd missed the season for Patagonia, snow had begun to fall in the mountains. That will have to wait for another time.
The next few days were spent heading north west, taking in the towns of Rosario, Cordoba, Frias and Tucuman before reaching Salta at the base of the Andes. The distances in this country are huge with dead straight roads long into the horizon. I'd love to tell stories about spending my nights dancing tango with gorgeous Salsa girls, but life on the road is not always like that. My routine had developed into arriving in a large city, driving around aimlessly trying to find accommodation that has parking for the bike, whilst trying not to be written off at deadly intersections in the process. Then wander the streets looking for food until 9pm, which is when the restaurants start thinking about opening. Obviously only a tourist would want to eat before then.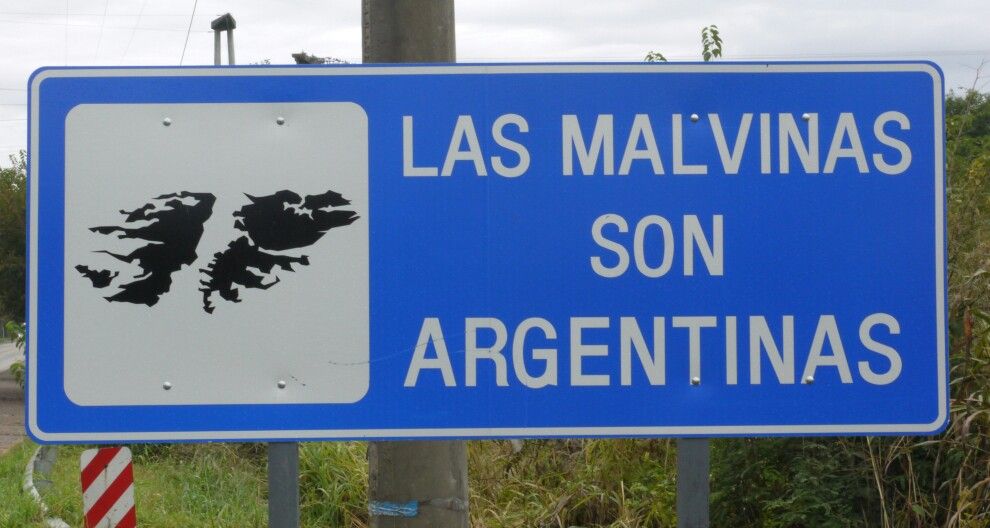 Random road sign; "The Falklands are Argentinean"
Having spent 5 continuous days on the road and traveling 1,600km, I'd decided to stop in Salta for a few days to doing the usual mix of sightseeing, laundry and catching up on emails. Salta is a great little town, quaint cobbled street and Spanish style plazas.
I caught up with some backpackers that I had met in Buenos Aires for a dinner of our now standard parrilla, consisting of excessive quantities of meat and even larger quantities of local red wine. Happy days. Here is a tip tho, when eating a at Salsa themed restaurant, if the MC asks your nationality and you say English, there is a strong chance you will be pulled up on stage. You may be forced to do your 'Guacho face' whilst dancing Salsa with someone who is clearly a better dancer. You have been warned, it was not me, but I've seen it happen.
 Cable car over looking Salta
Originally I had planned to go straight to Bolivia, but with their rainy season still winding down I decided to head across to the Atacama in Chile. This would involve Pasa de Jama, my first Andean crossing. At 4,200m above sea level, it is the northern most border crossing between Argentine and Chile. The road itself reaches much higher altitudes, but it has some of the most spectacular scenery and above all else, pristine tar with stunning sweeping bends. The altitude makes small tasks difficult, but fortunately the bike held out well, better than I did…

The ascent into the Andes begin, it is still relatively green.

And then it dries up totally
Argentinean customs was painless, my newly approach of pointing at various documents and mumbling in pidgin Spanish did the trick. Quite bizarrely, Argentinean customs are located on the border at 4,200m, whilst the Chilean customs are 150km down the road at San Pedro, residing at a far more respectable 2,400m altitude. Clearly someone has thought about this.
Chilean immigration was painless. When the Immigration office found out that I worked in IT he began showing me an iPhone app he had written to speed up the customs process for cargo vehicles. Again the conversation consists of both parties pointing at stuff, speaking in a pidgin version of the other parties language and then nodding in agreement. I've had weirder experiences at borders, but not many. Then it was on to customs who are extremely thorough. I signed a declaration stating I have not imported any vegetables, meat or animal semen. Seriously. For the first time ever I had to unpack all my luggage as the Aduana agent looked to contraband food and God knows what else.
The town of San Pedro de Atacama is a couple of km's down the road, where I check into the rustic Puritama hostal which has plenty parking for oversize motorbikes. Happy days. I had planned to meet Ricky here, one of the back packers from Buenos Aires. He spent several months traveling Central America before heading south. We are on a similar route and we meet up occasionally.
San Pedro de Atacama is a small town on the northern border of the Salar de Atacama salt flats, which is in the north eastern part of the Atacama desert, the driest area in the world. Some parts of the Atacama desert have an average rainfall of 1mm a year, some weather stations have never recorded rain.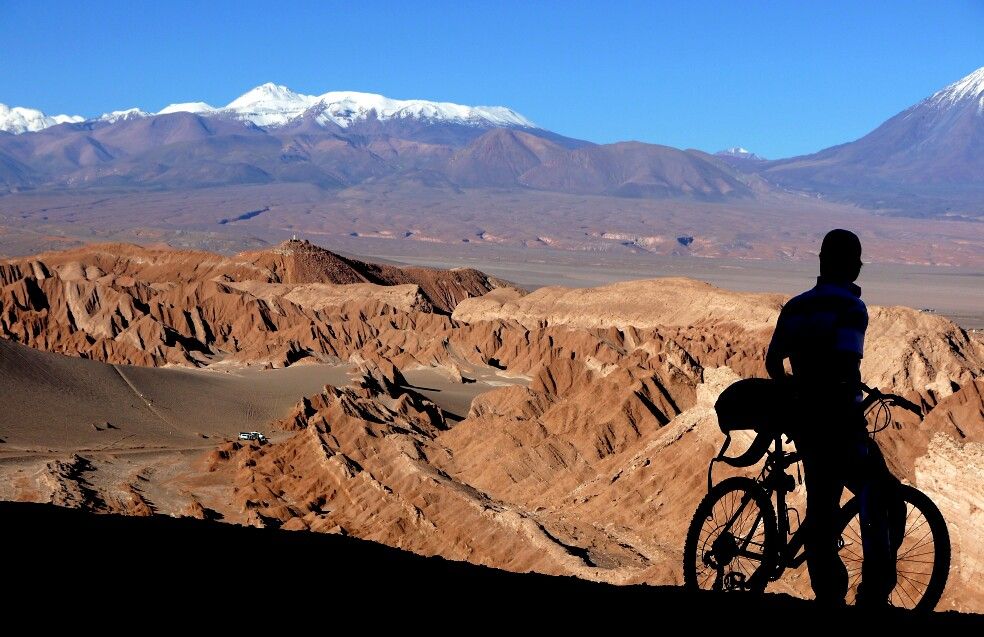 San Pedro itself is rustic, though often criticised for being too touristy. Granted every store is either a tour operator or a shop selling generic tourist bumpf, but you have to give it to this place, the landscape is absolutely stunning.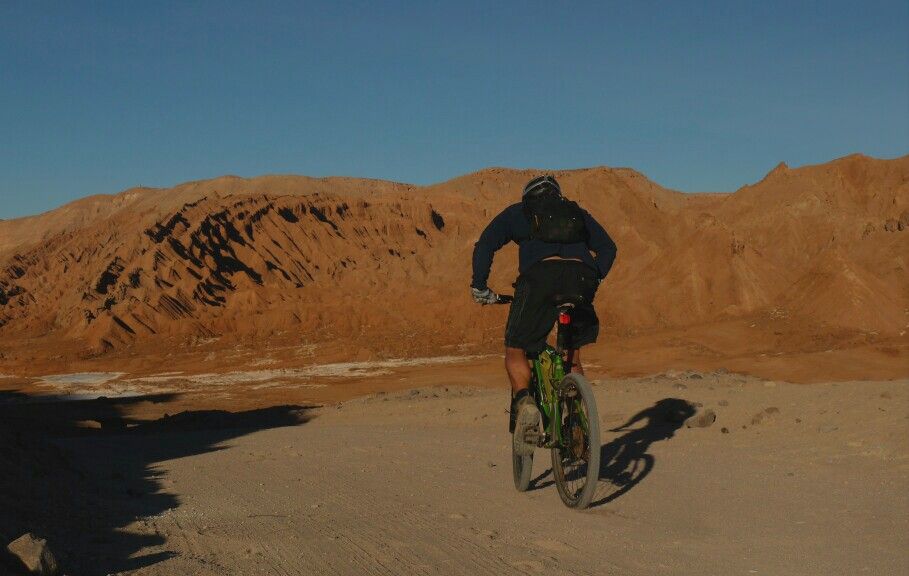 Early morning mountain biking

Salt caves in Lunar valley